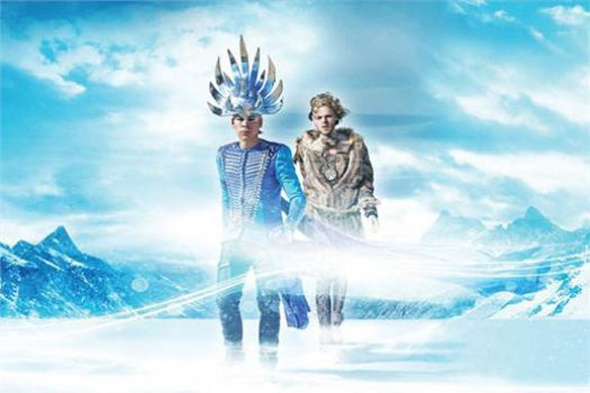 VIVID LIVE
Empire of the Sun to headline Vivid LIVE 2013!
Local EDM heavyweights Empire Of The Sun are back in a big way this year - they've just been announced as one of the headlining acts for the 2013 Sydney Vivid LIVE festival.

The duo recently revealed they would be releasing a new album in June called Ice On The Dune, which they will premiere at the festival.

Empire Of The Sun will be joined by R&B icon Bobby Womack, Underworld's Karl Hyde, a special Gurrumul co-ordinated project and Aussie rockers the Sunnyboys. Also on the bill will be the 45-piece Heritage Orchestra performing Vangelis' original Blade Runner score and Sounds of the South, which is a folk-rock tribute to the work of iconic American folklorist Alan Lomax featuring Megafaun, jazz collective Fight the Big Bull and Grammy Award-winning Bon Iver frontman Justin Vernon.

Speaking to theMusic.com.au at today's announced, Sunnyboys' Pete Oxley said the band were finally confident to play under their own name after reforming as 'Kids In Dust' on last year's Dig It Up!. Admitting at the time they were open to playing again, after frontman Jeremy Oxley's battle with schizophrenia kept them away from the live scene, they next turned up on the Meredith line-up.

"We played undercover last year with Dig It Up!, and that was just to see if we enjoyed playing and could get the good feel and play well, and that Jeremy was actually comfortable to play. We were trying to make him feel like he wasn't under any pressure, so we didn't actually play under the name Sunnyboys. But we played really well and Jeremy loved it and from there we were offered lots of shows. We thought, 'Well, let's play under our real name'."

The performance will coincide with the premiere of a documentary on the band, The Sunnyboy, which will be screened in the afternoon before their performance – Sunday 2 June.

The result of two-and-a-half years work, today Oxley said it is, "Essentially telling the story of Jeremy's survival and struggle with the schizophrenia...And his reclaiming of himself mentally as a musician and a singer/songwriter. Us playing now is a celebration of that as well."

This morning's announcement at the launch in Sydney follows on from last month's news that electro pioneers Kraftwerk will perform eight special shows throughout the festival. The German group will play eight of their albums in full over the course of four nights, in what promises to be a 3D musical masterpiece.

Vivid LIVE's Festival Director Fergus Linehan told theMusic that this year's line-up featured a strong thread of, "Looking back at artists who are affecting things now. If you look at Vangelis, if you look at Karl Hyde, if you look at Kraftwerk, if you look at SUnnyboys, they're people who have had a fairly significant effect at the way music is now... [But] it's not an art-rock extravaganza, it's meant to be celebratory and it's meant to be fun."

As he has previously stressed, the lack of a celebrity curator means organisers can book artists and events in years in advance. He admitted today, "There are things that we wanted to do this year that will probably eventuate next year – big things."

For the first time in the event's history, Vivid Music will be held at the Overseas Passenger Terminal, as well as the Opera House, with a collection of electro DJs and musicians set to perform.

Vivid Sydney takes place from Friday 24 May to Monday 10 June, with the Vivid LIVE part of the event finishing up on Sunday 2 June. For more info on the full program and tickets, head to the event's official website here.

Line-up: Empire Of The Sun, Kraftwerk, Bobby Womack, Karl Hyde, The Gurrumul Project, Sunnyboys, Heritage Orchestra - Blade Runner score, Sounds Of The South - featuring Megafaun, Fight the Big Bull and Justin Vernon, Cloud Control, Lighting the Sails- The Spinifex Group, Live Transmission - Joy Divison reworked, Bish Bosch Ambisymphonic - Audio Installation of Scott Walker's Bish Bosch, C.W. Stoneking, Future Classic party, Goodgod Danceteria, Club Kooky.