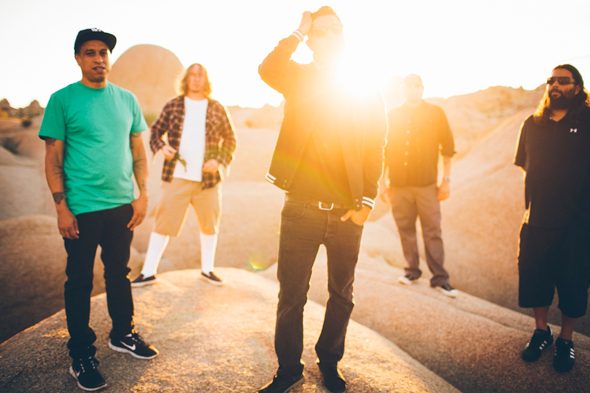 Soundwave Touring presents
DEFTONES
with letlive.
DEFTONES have always been one step ahead of their alternative metal peers. They have spent their career battling on the front-line, always pushing ahead stylistically and crafting crushingly effective metal tracks whilst breaking new ground.

2010's 'Diamond Eyes' was a roaring return for the band but it's the new album 'Koi No Yokan' that sees them forge into unchartered territory. NME were in awe exclaiming "it's easy to see why they're so revered. It's a shotgun blast of cranked guitars, bruising hardcore and canyon-sized choruses... mesmerising." Absolute Punk summed it up in one sentence... "this is a fucking great album." Under The Gun rated the album perfect stating "The band's vision and skill remain second to none in their field and they have executed this record sublimely."

Full of punk rock aggression and rock 'n' roll swagger letlive. have exploded on to the world stage as one of the most exciting and important bands of 2012.

Channeling the frantic intensity of The Blood Brothers, awe inspiring sonic complexity of At the Drive In, the unrestrained emotion of Glassjaw and industrial strength hardcore of Refused, letlive. are injecting new blood into the scene with their latest record 'Fake History'... "Consistently thrilling and invigorating it's a phenomenal record that's worthy of all praise." - Rock Sound

So brace yourself for extremes as you prepare to witness the eagerly-awaited return of DEFTONES in May 2013. They "are simply a brutal and out-of-control noise machine... always shattering the foundations of the buildings they play in". NME
Tickets On Sale DECEMBER 13!
| | | |
| --- | --- | --- |
| 14.May.13 | The Tivoli, BRISBANE | QLD |
| | | |
| --- | --- | --- |
| 15.May.13 | UNSW Roundhouse, SYDNEY | NSW |
| | | |
| --- | --- | --- |
| 17.May.13 | The Palace, MELBOURNE | VIC |
| | | |
| --- | --- | --- |
| 21.May.13 | Metropolis, FREMANTLE | WA |
Need your live music fix?