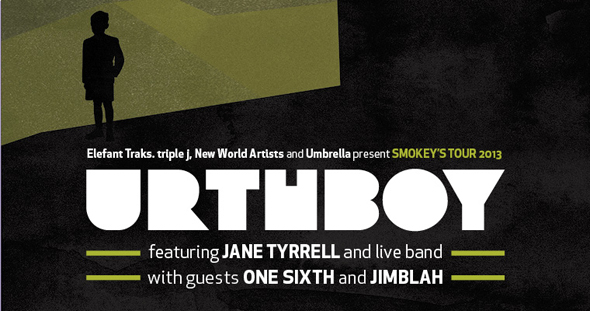 Elefant Traks, New World Artists, Umbrella and triple j present
URTHBOY
Smokey's Tour 2013
Fresh from releasing one of the most talked about albums of 2012, Urthboy is hitting the road with a new live band!

Urthboy's new album Smokey's Haunt has received a phenomenal response after debuting at #14 on the ARIA Album Chart. It has been nominated for a J Award and was triple j Album of the Week, long-listed for the Australian Music Prize with The Australian giving it a 5 star review "absolutely captivating". From Rolling Stone to The Sydney Morning Herald and beyond, Smokey's Haunt has been lauded for its storytelling, receiving 4 star reviews across the board with many calling it Urthboy's most accomplished album.

Fittingly, he's put together a live band and a refreshed sound to tour the album in 2013 alongside cohort Jane Tyrrell. If you've been to one of their shows you can testify to the infectious spirit of their live performances - there's a warmth to the music that perfectly suits live drums and keys.

Supporting are two recipients of the Hilltop Hoods Initiative, the latest Elefant Traks signing Jimblah (whose star is on the rise with his signature soulful hip hop sound) as well as One Sixth, the exciting young MC hailing from Namibia and residing in Melbourne, whose debut album Electronic Mail just dropped on Obese.
Tickets On Sale NOW!
Need your live music fix?