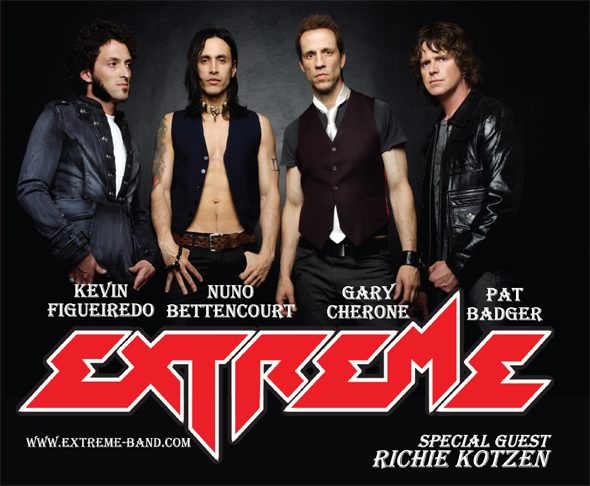 Lennard Promotions presents
EXTREME
with special guest Richie Kotzen
Lennard Promotions are thrilled to present 90's rock giants Extreme along with very special guest guitar virtuoso Richie Kotzen live in Australia in 2013.

Extreme won a legion of fans during the 80's and 90's selling over 10 million records including their global smash hit More Than Words. Known for their heavy hitting musical ability and featuring the blazing guitar work of Nuno Bettencourt, Extreme exercised restraint rather than indulgence producing amazing music that not only showcased the band's proficiency but also their collective mastery of hook laden rock.

Richie Kotzen is a renowned guitar prodigy in his own right texturing both his own acclaimed releases and those from a string of notable acts including Poison and Mr Big with stunning guitar lines and breathtaking musical dexterity.

Teaming up for what is sure to be a highlight on the 2013 touring calendar Extreme and very special guest Richie Kotzen will thrill Australian music lovers and galvanise guitar tragics alike.
Tickets On Sale NOW!
Need your live music fix?