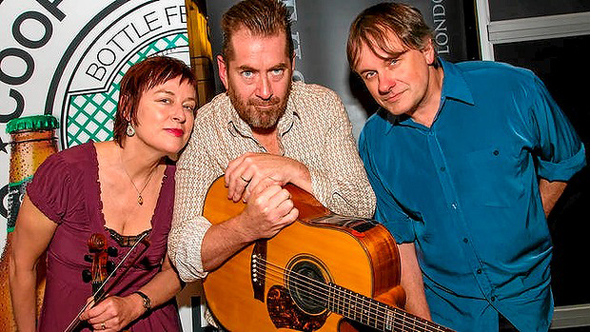 The Age presents
2012 EG AWARDS
One of Australia's most iconic bands to join the EG Hall of Fame and headline the 2012 EG Awards with a special Scorn of the Women show.

Australia's leading folk-rock luminaries, Weddings Parties Anything, will be the 2012 inductees into the EG Hall of Fame and the headline act at the seventh annual Age EG Awards on Tuesday November 20 at Billboard nightclub in the city, hosted by EG's favourite "Nice" girl, Myf Warhurst.

For the first time this year, The Age EG Awards are also excited to be part of the official Melbourne Music Week program. To celebrate, MMW is presenting the reader-voted award for Most Outstanding Achievement in 2012 by a Melbourne band or artist.

Music Victoria CEO, former Age journalist and founder of the EG Awards, Patrick Donovan, will also present an award on the night honouring a non-musician's lifetime achievement to Melbourne music.

Nominees for this year's seven reader-voted awards are:


BEST NEW TALENT
Bombay Royale
Bushwalking
Cactus Channel
Chet Faker
Courtney Barnett
Jackson Firebird
King Gizzard & the Lizard Wizard
The Murlocs
Oscar + Martin
Saskwatch
Smith Street Band
Woollen Kits

BEST FEMALE
Butterfly Boucher
Catcall
Clare Bowditch
Courtney Barnett
Emma Russack
Julia Stone
Kate Miller-Heidke
Lanie Lane
Linda Johnston
Liz Stringer
Mia Dyson
Sherry Rich

BEST MALE
360
Charles Jenkins
Chet Faker
Dave Graney
Galapagoose
Geoffrey O'Connor
Henry Wagons
Jordie Lane
Mikelangelo
Ron S Peno
Spencer P Jones
Tim Rogers

BEST ALBUM
Alpine - A is For Alpine
Clare Bowditch - The Winter I Chose Happiness
Collarbones - Die Young
Dirty Three - Toward the Low Sun
Gruntbucket - Songs From an Empty Room
Jim Keays - Dirty, Dirty
Liz Stringer - Warm in the Darkness
Oh Mercy - Deep Heat
Pond - Beard, Wives, Denim
Ponyface - Hypnotised
Sherry Rich - Dakota Avenue
Twerps - Twerps

BEST BAND
Alpine
Clairy Browne & the Bangin' Rackettes
Dirty Three
Even
Graveyard Train
Husky
New War
Oh Mercy
Pond
Something For Kate
Temper Trap
Twerps

BEST SONG
Alpine - Gasoline
Charles Jenkins - Pray My Dear Daughter
Chet Faker - No Diggity
Clairy Browne & the Bangin' Rackettes - Love Letter
Graveyard Train - Get The Gold
Mia Dyson - When the Moment Comes
Oh Mercy - Drums
Saskwatch - Your Love
Something For Kate - Survival Expert
Tame Impala - Elephant
The Bamboos featuring Tim Rogers - I Got Burned
Twerps - Dreamin'

BEST TOUR
Dig It Up! - The Palace
The Pogues - Festival Hall
Dolly Parton - Rod Laver
Fu Manchu - Cherryrock / HiFi
Jack White - Festival Hall
Lil Band O' Gold - Regal Theatre / Gershwin Room
Mark Lanegan - Forum
Kanye West - Myer Music Bowl / Big Day Out
Prince - Rod Laver
The Beach Boys - Rod Laver
The Darkness - The Palace
The Wedding Present - Northcote Social Club

OUTSTANDING ACHIEVEMENT BY A VICTORIAN ARTIST
(PRESENTED BY MELBOURNE MUSIC WEEK)
Ainslie Wills
Ben Browning
Boomgates
Chet Faker
Francolin
Galapagoose
Husky
Lower Plenty
Oh Mercy
New War
Teeth & Tongue
Twerps
Voting in the EG Awards is open from October 5 until midday November 16 at The Age website,
theage.com.au/egawards
The Age EG Awards is sponsored by Coopers Brewery, Triple R, Crumpler and new sponsor Wine To The Stars.
All profits from the night go to Support Act Limited, the charity supporting musicians enduring financial hardship/loss of income due to illness.
Tickets On Sale Now!