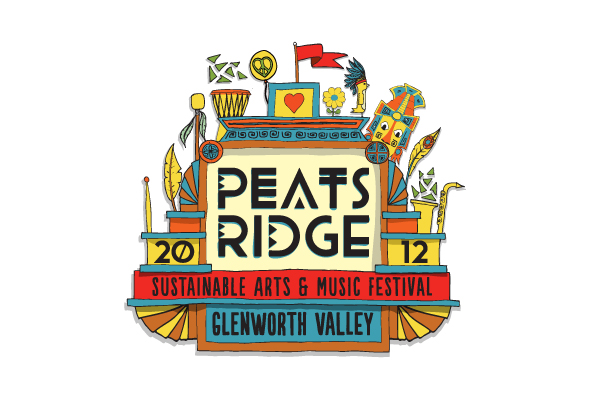 PEATS RIDGE 2012
Second line-up announcement!
Peats Ridge Sustainable Arts & Music Festival is proud to announce their second line-up for 2012. From flamenco party beats to techno legends, across post-industrial folk/rock to down home indie stylings, Peats has you covered this year.

Festival Director Matt Grant says, "We've been dropping some pretty eclectic line-ups over the years, but this time we've really excelled ourselves. I'm completely excited by the diversity and quality of what we've pulled together, we've spent an enormous amount of time working on it to make sure we give our patrons the absolute best musical experience they could possibly have this New Years. Peats is renown for the quality and diversity of our music line-up, we're not just about music, we're about the BEST music".

Joining the festival on the electronic front this year Techno legend Luke Slater (UK) will be bringing a slice of his world-respected DJ skills down into the Valley, along with international electronica/dub favourite and multi-instrumentalist Gaudi (ITALY/UK). Coming direct from the Detroit underground, house and techno producer Theo Parrish (US) will be taking the stage to share his electronic twist on soul and dance classics.

Described as "a soundclash between Burial, Cocteau Twins and Animal Collective" New York Based trio Young Magic will delight attendees with their chameleonic patchwork of West African rhythms, brain-feeder hip hop, UK bass and 60s psychedelic soul and Sydney's Winter People will drop their own unique mix of post-industrial folk/rock, complete with two violin players and five vocalists for the Peats faithful.

You can get set for the kooky, upbeat indie-pop party music of Brisbane's Hey Geronimo whilst New World Artists' newest signing All The Colours and indie-pop five-piece The Griswolds will show Peats punters why Australia is quickly becoming the musical look-to country for the rest of the world.

With their musical influences spanning every crevice of the planet, Tijuana Cartel will get you loose with their cocktail of Afro-Cuban beats, Spanish guitars and horn section alongside Byron Bay's Wild Marmalade and their unique fusion of didgeridoo dance grooves and Middle Eastern tradition. Joining them will be Australian soul newcomers Electric Empire, bringing a touch of class to the Valley, whilst the hottest Stage show this side of Vegas Clairy Brown and the Bangin' Rackettes will rock the Main Stage in a way Peats regulars have come to expect from this unique New Years event.

Coming all the way from Canada, roots-rock group Current Swell will bring their signature grooves to the Festival alongside their fellow countrymen, indie-pop band Half Moon Run. Sydney-based indie four-piece Tin Sparrow are looking forward to sharing their stunning harmonies and infectious pop hooks, whilst Brian Campeau will showcase his powerful voice, unusual arrangements and experimental instrumentation.

Sydney folk act persianlovecake first bonded over uni procrastination, but it all paid off with their gorgeous three-part harmonies and symphonic wash of sound. Sydney songstress Sam Buckingham will be delivering her breathtaking, angel-voiced folk/pop to the Ridge this year, as well as the lovely Kate Martin, who will be sharing songs from her new album, Hand Me My Bow and Arrow. Also bringing her enchanting country/folk music to the festival will be delicate songstress, 21 year-old Anabelle Kay and up-and-coming singer-songwriter Bec Sandridge.

'Party-country' string band Little Bastard will be having you in a hoedown, alongside roof-raisin', knee-slappin' folkabilly group Fanny Lumsden & The Thrillseekers. Indie-surf boys of Brisbane, Gung Ho, will be pumping out their retro bass lines and catchy hooks, joined by, and, representing Hobart, we welcome back dark indie-rock four-piece Enola Fall and the best garage grass outfit in Australia, The Green Mohair Suits. Get lost in the rich, bittersweet soundscapes of multi-instrumentalist folk-act Traveller & Fortune, and experience young Sydney five-piece Belle and the Bone People express lyrical and musical sensitivities far beyond their years.

Chill out with the minimalist sound explorations of The Atlas Room and then get ready to dance your socks off with electro-pop outfit Tokyo Denmark Sweden. Whilst founder of Zenon records, Australia's own Sensient, will be dropping one of his rare minimal psy sets at the Pirate's Lair.

Taking us back to our roots are Brisbane's Kingfisha, sharing their passion for Jamaican rhythms, Ganga Giri with their sound-like-no-other of fat tribal beats and rhythmic didgeridoo. Prepare to get swept up in a whirlwind of gypsy music, klezmer, and obscure European folk with Sydney four-piece as The Crooked Fiddle Band deliver a main stage extravaganza that they have developed exclusively for Peats.

Keeping it real is Sydney's slick young wordsmith Skryptcha, spitting the latest from his new album, Mindful. Having toured with Public Enemy, Dizzee Rascal and Pharoahe Monch, fellow Sydney rapper The Tongue is ready to drop some knowledge bombs. Highly talented duo Paul George and Carey O'Sullivan of Tijuana Cartel make up side project George and O'Sullivan, a musical divergence into deep dubstep, trip-hop beats and glitch soundscapes.

With a focus on creating a total experience for all, Peats Ridge hosts a brilliant showcase of art installations, kooky themed venues, multimedia, theatre, dance, cabaret, comedy, circus, and much, much more, all winding along the riverbank and dotted through a unique event site.

Peats Ridge is a world leader in presenting a sustainable event and has a dedicated eco-living education program as well as extensive environmental initiatives and awards. The Festival is also very family friendly with a full program organised for children and family camping facilities.

Now in its 9th year, the 2012 instalment of Peats Ridge promises to be everything brilliant that has been offered in previous years and a whole new world of wonder with many more announcements to come.

Don't miss out. Come join the Peats family this summer for a Festival experience of a lifetime!
Tickets On Sale Now!
Need your live music fix?
Search for FALLS FESTIVAL here.
Marion Bay, TAS - December 29 to January 1
Search for HOMEBAKE here.
The Domain, Sydney NSW - December 8
Search for FUTURE MUSIC here.
Touring March