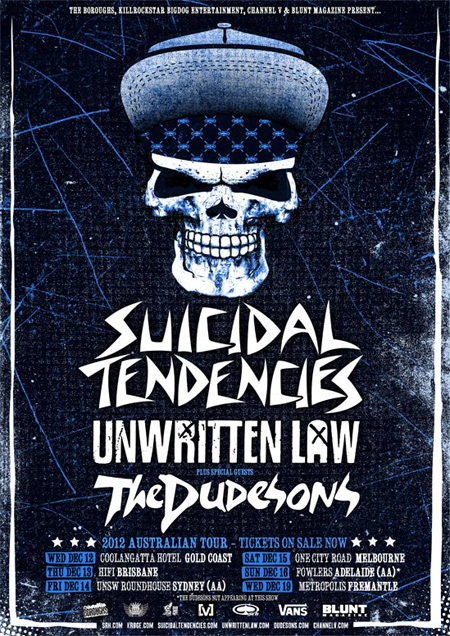 The Boroughs, KillRockStar BigDog Entertainment, SRH and & Channel [V] present
SUICIDAL TENDENCIES
with Unwritten Law and The Dudesons
Summer 2012 gets kicked in the face with a massive national tour featuring the legendary Suicidal Tendencies, Unwritten Law and Finnish pranksters The Dudesons. Taking the punk rock party right across Australia the tour will be the perfect way to see off the remains of 2012 in a blazing onslaught of breakneck riffs, memorable anthems and outrageous thrills and spills.

Suicidal Tendencies were never afraid of a little controversy. Formed in Venice, CA, during the early '80s, the group's leader from the beginning was outspoken vocalist Mike Muir. The outfit specialized in vicious hardcore early on - building a huge following among skateboarders, lending a major hand in the creation of skatepunk - before turning their focus eventually to thrash metal. For almost 30 years, featuring a multitude of talented personnel Suicidal Tendencies have remained true to their vision of uncompromising independence and singular musical ferocity.

SoCal punk stalwarts Unwritten Law have built a huge following worldwide since they formed in 1990. Six albums including their latest Swan have showcased the band's core aesthetic of memorable tunes, crushing pop punk riffs and an infectious energy that has maintained a breakneck momentum and thrilled fans for over two decades. No strangers to Australian fans Unwritten Law have cultivated a loyal following downunder delivering thrilling live shows that capture Unwritten Law's hallmarks of power, energy and infectious melody.

Featuring Jukka, Jarppi, Jarno, HP and their beloved pet pig Britney Finnish stunt pranksters The Dudesons are renowned for their epic stunts including blindfolded boxing, shooting to the chest with a shotgun, the human dartboard, the tug of war with bicycles, and much more! Known the world over through their movies and hit TV show The Dudesons live by the motto When you're old, you don't want to think about the things you didn't do. Instead you want to think of all the things you DID do!
Tickets On Sale Now!
Need your live music fix?