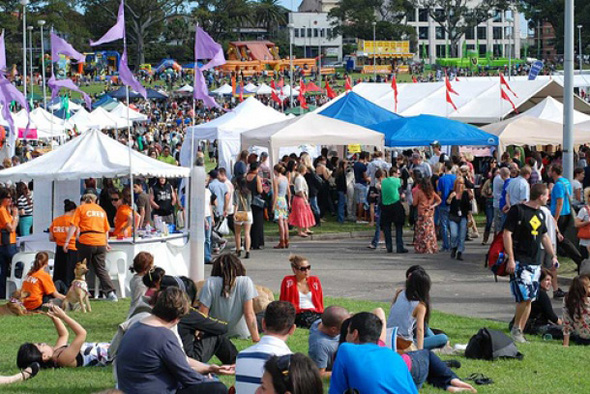 SURRY HILLS FESTIVAL
A fundraiser for the Surry Hills Neighbourhood Centre
Welcome to the greatest, one day, entry by donation festival in Sydney! This will be a truly special day and the most special event of the year for Surry Hills! We have a day absolutely bursting to the brims with entertainment, just waiting for you to come and enjoy in the sunshine.

Music for all the family! Check out our Music programme to find music across three stages. All of these guys have something different to offer but one thing we can guarantee is that you will find it hard to move from your spot! See you all at Tijuana Cartel rocking the main stage at the end of the night after a day of happy, joyful sounds.

And we have a full Arts programme – check it out. Things for you to see and do are everywhere. Plenty of space for the kids too as we have a fully fledged Children's Festival area for the little guys to play in.

Markets and food are a big part of the day. Get lost in a Festival wonderland of food and shopping as we bring you some of the best parts of the suburb. Trinkets, clothes, Gozleme – spend the day discovering!

We are really lucky to have the debut performance in the City of the amazing Sustainability Hub. Brought to you by City of Sydney & Sustainable Arts & Culture with fantastic programming from Green Villages. We don't just talk about Sustainability either, we put it front and centre and have a detailed Waste Management programme and a Green Team cleaning up. Don't forget to bin it! Know your waste and check out what's on offer in the Sustainability Hub as well.

If you like to ride around town, we are delighted to be hosting this years Sydney Rides Festival. Your bike is welcome with a place to park, workshops, tuneups and all sorts of bike related jazz.

The Surry Hills Festival is a long standing and much loved event that has been around for many years in this amazing suburb we all know and love. As the major fundraiser for the Surry Hills Neighbourhood Centre, it brings in funds that keep the centre alive and provide a range of vital services to the community. The donations you give also help pay for this incredible event and it is only through your generosity that we have such a wonderful Festival in our neighbourhood.

We want you to have a wonderful day. There's something for everyone at Surry Hills Festival. So spend the day listening, watching, dancing, learning, eating, drinking and laughing! Please help us celebrate this wonderful suburb that means so much to Sydneysiders. A place of creativity, diversity and community.

And finally, please give generously. The Surry Hills Neighbourhood Centre is a not for profit organisation that works hard to bring you this Festival and also to provide vital community services all year round.
Tickets On Sale Now!
And grab tickets for the After-Party here!