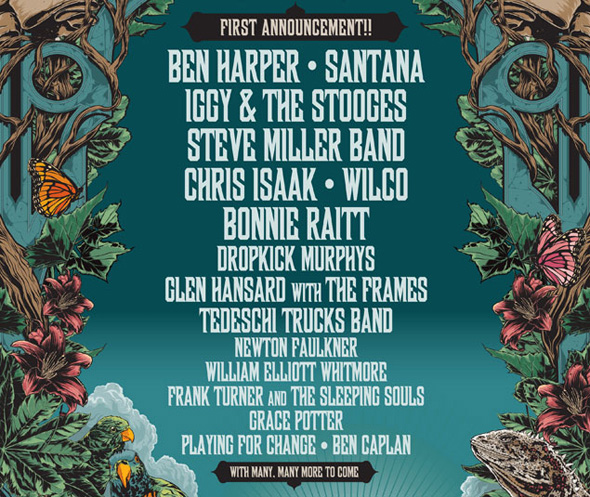 BLUESFEST 2013
The first announcement has arrived!
Yes, it's the earliest announcement in the history of Bluesfest - 6 weeks sooner than usual and it marks the beginning of FOUR exciting announcements to be released in the upcoming weeks.
"This is our Year" says Peter Noble, Festival Director. "We are delivering one of our absolute best artist line-ups ever, and the first announcement is only the beginning.
Any Festival in the world announcing Ben Harper with his Band, Santana, Iggy & The Stooges (on their final tour), Chris Isaak, Wilco, Bonnie Raitt, Derek Trucks & Susan Tedeschi, Glen Hansard with the Frames, Frank Turner and the Sleeping Souls, Playing for Change and lots more on their first announcement - has GOT to make everyone everywhere sit up and take notice.... and That's NOT all Folks. We sure have got some more deadly artists up our sleeves to roll out over the next month."
So to the first instalment of the 2013 line-up!
BEN HARPER
SANTANA
IGGY & THE STOOGES
STEVE MILLER BAND
CHRIS ISAAK | WILCO
BONNIE RAITT | DROPKICK MURPHYS
GLEN HANSARD WITH THE FRAMES | TEDESCHI TRUCKS BAND
NEWTON FAULKNER | WILLIAM ELLIOTT WHITMORE
FRANK TURNER AND THE SLEEPING SOULS
GRACE POTTER | PLAYING FOR CHANGE | BEN CAPLAN
28.Mar.13
-
01.Ap.13
Tyagarah Tea Tree Farm, Byron Bay
NSW
Need your live music fix?