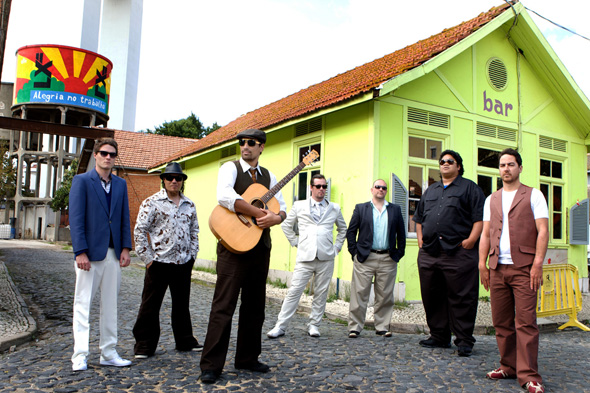 Niche Productions presents
FAT FREDDY'S DROP
Fat Freddy's Drop are not the type of band easily distracted from the magic of the recording studio; you can tell it by the infrequency of their record releases and the very special live performances they do make, like touring Australia with Erykah Badu earlier in 2012. Therefore, it is with great pleasure that Niche Productions announces one last trip across the Tasman before Fat Freddy's Drop finish their next LP and there are some very special appearances on this run to mark their return, as well as a brand new single...
Kicking off at one of the world's most renowned live music venues, Fat Freddy's Drop will present two live performances, for the very first time incorporating their trademark visuals. Blackbird: An Animated & Illustrated Album Preview commands the kind of awed hush that you just don't get with a standard listening party. The Drop present the worldwide premiere of their fourth album Blackbird - exclusively animated, illustrated and performed live at Sydney Opera House's Graphic Festival. A specially commissioned collaboration with celebrated NZ street artist Otis Frizzell, Fat Freddy's DNA is ingrained into the Graphic festival spirit- from the group's name play on Gilbert Sheldon's cult comic character 'Fat Freddy' to the cartoon band members rendered on each album, this back-to-back show will be the only opportunity to preview their 'big beat heavy jammin' party' before Blackbird's release next year.
Heading North, The Freddy's will usher in the Lunar Eclipse and provide the perfect aural backdrop to Port Douglas' staggering natural beauty as they and several dozen other acts give a big salute to mother nature. We're pretty sure you'd be hard pressed to find a better Tuesday night anywhere in the world.
With two inner city shows in Queensland, starting at Gold Coast's Coolangatta Hotel and following on at The Arena in Brisbane, Fat Freddy's Drop mark their first shows since performing two sold out gigs at The Tivoli in May 2011. Like those, these two are set to be ram-jam, so Brisbanites and Gold Coastees are invited not to be slacking next week when tickets go on sale.
Finally, before the beast goes back to the boards, the 'seven headed soul monster' will appear at Golden Days Festival, the annual Soul, Blues and Roots event that is putting the Sunshine Coast on the musical map of Australia.
Fat Freddy's Drop's Australian tours do not usually require any press release hype or media faff, but with such esteemed appearances and the promise of imminent new material, it's understandable why PR people and fans will be falling over themselves with the news of this November tour.
Tickets On Sale Now!
Need your live music fix?