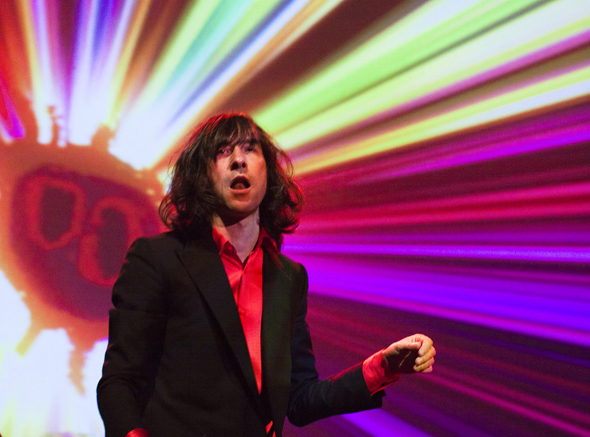 Viv Lees, MAX TV, SPA & Faster Louder present
PRIMAL SCREAM
AUSTRALIAN TOUR 2012
"They have redefined music once and they're not resting on their laurels" (Hit the Floor Magazine, June 2012)
Last seen in 2011 performing their era-defining album Screamadelica in full, PRIMAL SCREAM return to Australia this summer armed with classics, fan favourites and brand new songs.
After 30 years as a band, British game-changers PRIMAL SCREAM remain at the cutting edge, blending rock, psychedelia and electro into a space where echoes of the past meet a beautiful future.
With long-time bassist Mani departing to re-form The Stone Roses, Debbie Googe of My Bloody Valentine has picked up the bass to join singer Bobby Gillespie, guitarist Andrew Innes, keyboardist Martin Duffy, drummer Darrin Mooney and guitarist Barrie Cadogan.
"They've come out the other side revitalised, reinvigorated and re-energised ... a performance that confirms PRIMAL SCREAM as one of the finest live bands in the world right now" (Clashmusic, June 2012)
PRIMAL SCREAM are now drawing from all parts of their far-reaching career. "How can you go from 'Get your rocks off' to Shine Like Stars?" Gillespie asked The Irish Times recently. "The way you do it is play it intensely and sincerely and with conviction. Play like you f---ing mean it."
That's just what the SCREAM have been doing, with recent setlists spanning 1991's Screamadelica (Movin' on Up, Damaged, Come Together, Slip Inside This House, Loaded, Higher Than the Sun), 1994's Give Out But Don't Give Up (Jailbird, Rocks), 2000's XTRMNTR (Swastika Eyes, Accelerator, Shoot Speed/Kill Light), 2006's Riot City Blues (Country Girl) and new songs (2012, Relativity) plucked from sessions for their 10th studio album, set to be the follow-up to 2008's Beautiful Future.
"Though the band has the balls to open the set with new song 2012 (chorus: 'Two-thousand-and-twelve!') – later adding Relativity with its waltz-time change, Indian drum sound and guitar effect like a car alarm going off – the set is packed with fan-pleasers from across the years" (The Northern Scot, June 2012)
Frontman Gillespie reveals the band's new album is close to completion and features input from Andrew Weatherall, David Holmes, producer Tom Elmhirst (Amy Winehouse, Adele) and My Bloody Valentine guitarist Kevin Shields. "No, it doesn't sound anything like Screamadelica," he told The Irish Times. "It has to be relevant to now. I've got something to say and we're going to f---ing say it."
As they enter their fourth decade, one thing remains the same: PRIMAL SCREAM will always say it with passion and energy. Be among the first to glimpse the future when PRIMAL SCREAM tour Australia this December.
Tickets On Sale Now!
Need your live music fix?