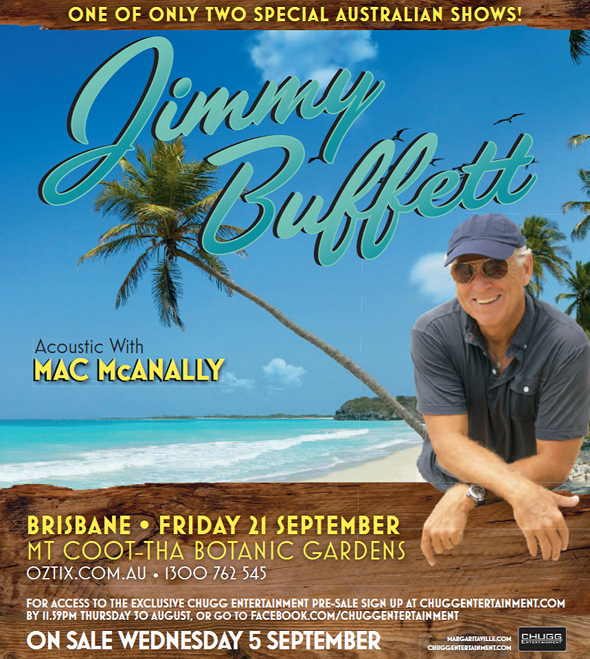 Chugg Entertainment presents
JIMMY BUFFETT
acoustic with MAC McANALLY
BEACH PARTY DOWN UNDER AS
JIMMY BUFFETT CONFIRMS TWO
EXCLUSIVE AUSTRALIAN CONCERTS
- BRISBANE: the first of only two exclusive Australian shows
- Mt Coot-tha Botanic Gardens | Friday 21 September
In December of 2010, the one and only Jimmy Buffett announced he would be returning to Australia for the first time in decades for two very special summer shows at the Sydney Opera House in January of 2011. The demand was high and Australian Parrotheads from coast to coast called for more; so much more in fact that an unscheduled additional show at the Hordern Pavilion was locked in.
Spreading the beach party a little further this time, Chugg Entertainment is thrilled to confirm that Buffett will be returning to Australia for two very special solo-acoustic shows with Mac McAnally next month.
Playing Brisbane and Melbourne for the first time in more than 20 years, Buffett will perform a special outdoor show at Brisbane's Mt Coot-tha Botanic Gardens (a venue-first) on Friday 21st September, before taking the party to the iconic Palais Theatre in Melbourne on Sunday 23rd September.
For singer/songwriter/author Jimmy Buffett, life is a beach and everyone is invited to join in the fun. Based on the popularity of Buffett's music, tropical persona and his embrace of the island escapism lifestyle, this beach party may never end. What can one expect from the man who famously said, "If life gives you limes, make margaritas."
Born in Mississippi and raised in Alabama, Buffett's music is known for its humorous chronicles of a laid-back seafaring life, which is encapsulated in hits such as Margaritaville (No. 234 on the Recording Industry Association of America's list of "Songs of the Century"), Cheeseburger In Paradise, Come Monday & Changes In Latitudes, Changes in Attitudes. He has recorded over forty albums, most of which have gone gold, platinum or multi-platinum. His sold-out concert tours are an annual rite of summer for his legions of fans, affectionately known as Parrotheads, many of whom are professionals by day and who dress in spectacular and outrageous tropical outfits and headwear when Jimmy comes to town.
Joining Buffett on stage will be his long-time friend, label-mate, co-writer, sidekick, and member of The Coral Reefer Band, Mac McAnally. Possessing a dry-rubbed Southern wit and considerable tallness, McAnally, a Mississippi native, has served as Buffett's onstage counterpoint, guitarist and producing and writing partner since the 1990s.
When Buffett turned the iconic Sydney Opera House into a tropical oasis, with fans starting conga lines in the aisles, it was clear that this seafaring rogue's beach party is contagious, and there's nowhere he won't take it. Melbourne & Brisbane fans, take note; as you start your spring by warming up for summer, it's time to kick back and grab yourself a frozen concoction and let the cool breeze blow over. Do not miss out on Jimmy Buffett's return to our shores.
Tickets On Sale
WEDNESDAY SEPTEMBER 5, 9AM (AEST)
Sign up here http://www.chuggentertainment.com/subscribe for the exclusive
CHUGG Entertainment pre-sale by not later than 11:59pm Thursday August 30, 2012.


Need your live music fix?
Search for IAN MOSS here.
Touring September
Search for JOSH PYKE here.
Touring August - November
Search for TIM FREEDMAN here.
Touring August & December