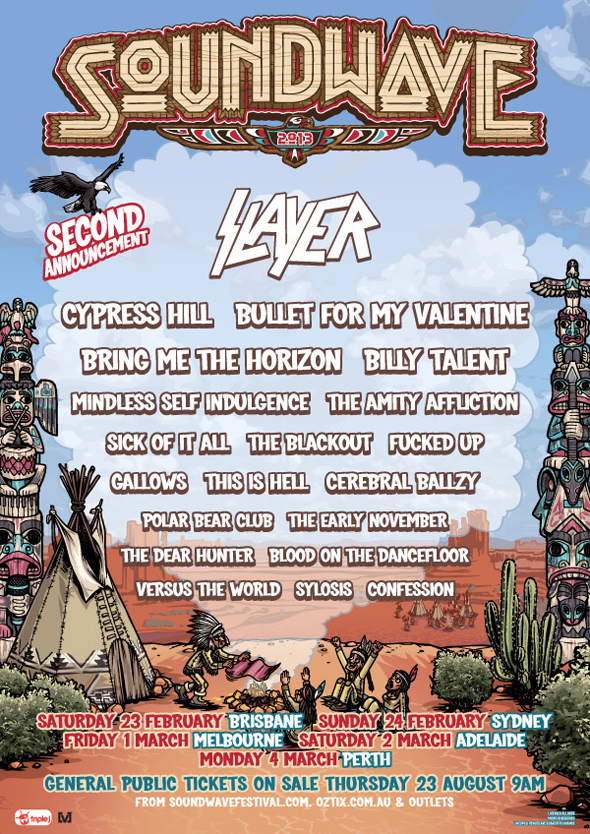 Soundwave Touring presents
SOUNDWAVE
Second line up announcement!
Just in case you weren't sat at your computer eagerly awaiting the second instalment of the Soundwave 2013 line up, we've got the list right here!
Added to the already massive line up are:
SLAYER
CYPRESS HILL - BULLET FOR MY VALENTINE
BRING ME THE HORIZON - BILLY TALENT
MINDLESS SELF INDULGENCE - THE AMITY AFFLICTION
SICK OF IT ALL - THE BLACKOUT - FUCKED UP
GALLOWS - THIS IS HELL - CEREBRAL BALLZY
POLAR BEAR CLUB - THE EARLY NOVEMBER
THE DEAR HUNTER - BLOOD ON THE DANCEFLOOR
VERUS THE WORLD - SYLOSIS - CONFESSION
And the rest of the line up:
Metallica, Linkin Park, Blink-182, A Perfect Circle, The Offspring, Paramore, Garbage, Tomahawk, Stone Sour, Kyuss Lives, Anthrax, Sum 41, Dragonforce, All Time Low, Flogging Molly, Ghost, Duff McKagan's Loaded, Motion City Soundtrack, Lawrence Arms, Kingdom Of Sorrow, Fozzy, Sleeping With Sirens, Cancer Bats, Madball, Vision of Disorder, Pierce the Veil, Periphery, Shai Halud, Of Mice & Men, Miss May I, Danko Jones, Woe Is Me, The Wonder Years, While She Sleeps, Such Gold, Lucero, Six Feet Under, Deaf Havana, Red Fang, Chunk! No Captain Chunk! and Memphis May Fire!
Presale tickets went like hotcakes last week so make sure you don't miss out on the General Public Tickets On Sale this coming THURSDAY 23rd AUGUST AT 9AM LOCAL TIME!
Tickets On Sale
THURSDAY 23RD AUGUST
AT 9AM LOCAL TIME !
Need your live music fix?
Search for BIG DAY OUT here.
Touring January
Search for HARVEST here.
Touring November
Search for FAT AS BUTTER here.
September 22 - Camp Shortland, NEWCASTLE