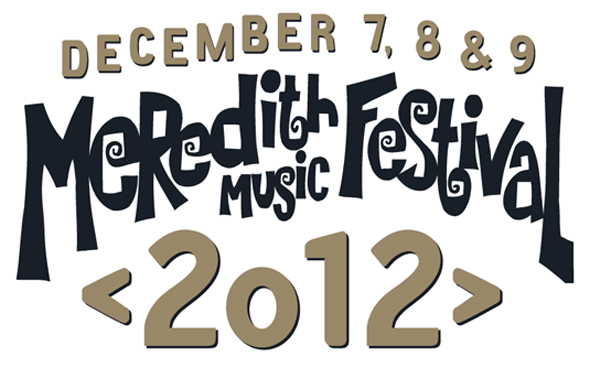 AUNTY MEREDITH PRESENTS
MEREDITH MUSIC FESTIVAL
7,8,9 December, 2012 - Meredith Supernatural Amphitheatre
Who? Or what? Wild fun is the wavelength. Supreme Bespoke Pirate Radio experienced live in 4D over 3 Daze and 2 Nites with channel changes from a slippery dial. No static. Everything ecstatic. Meredith 2012 will be the same perfect size, and still proudly BYO, no commercial sponsors, the No D!ckhe@d Policy, One Stage Fits All, world's-best-practice facilities and all the marvelocities of the lush, spacious Funpark that is the Supernatural Amphitheatre.
And just in case the world does end later that month, we have dreamt up a eucalyptic, pre-Apocalyptic neuvo-classic charismatic before-during-and-after-pArty featuring the crackest squad of musical mavericks yet assembled in The Sup' with WILD, FUNNER FUN as commonominator:
Primal Scream – Spiritualized- Four Tet- Turbonegro- Grimes- Sunnyboys- Omar Souleyman- Regurgitator- Big Jay McNeely- Chet Faker- Rahzel & DJ JS-1- Pond – Twerps- Saskwatch- Hot Snakes- Snakadaktal - DJ Yamantaka Eye- J.B. Smoove- Earthless - Toot Toot Toots- Meredith Sky Show – Brous- Bitter Sweet Kicks- The Town Bikes- Otologic- Fraser A Gorman & Big Harvest- Angus Sampson- Royal Headache- City Of Ballarat Municipal Brass Band - Silence Wedge.
Enter the Ballot now!
Need your live music fix?