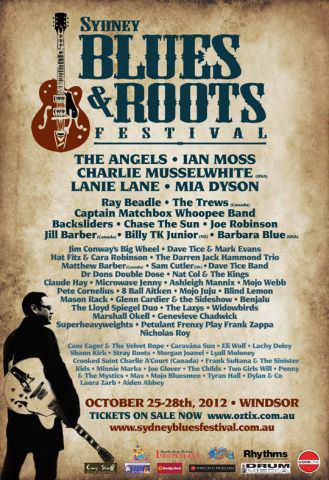 SYDNEY BLUES AND ROOTS FESTIVAL
Second line up announcement!
Legendary Australian band The Angels is confirmed to headline the 2012 Sydney Blues & Roots Festival in Windsor, an exciting addition to the line up which promises blues, roots and rock music lovers the ultimate 'long weekend' of live music! Held from the 25th to 28th October, the event, now in its fourth year, is regarded as one of Australia's premiere blues and roots music festivals, showcasing a diverse range of new and established acts from Australia and beyond.
The Angels boast a career spanning five decades and include in their repertoire some of the most iconic rock songs you'll ever wish to hear - Am I Ever Gonna See Your Face Again?, Fashion & Fame, Dogs Are Talking, No Secrets, Take A Long Line ... songs that have shaped the Australian musical landscape. Now fronted by one of the country's finest rock vocalists in Dave Gleeson, their addition to the bill provides a rare opportunity to see the band live.
Also confirmed to join the bill is Joe Robinson, the 20-year old guitar virtuoso hailing from Temagog NSW. A budding pop-world visionary, deftly walking a tightrope between the instrumental music that's put him in the spotlight and a unique fusion of vocally based rock, blues, jazz, country and R&B that is entirely his own, Robinson first gained acclaim by winning the Australian National Songwriting Competition at the tender age of 13. He recently released his new album, 'Let Me Introduce You' and to quote The Washington Post, "It's not hard to imagine him rivaling the popularity of, say, John Mayer in coming years..."
Barbara Blue will be bringing her unique style of blues all the way from Memphis, Tennessee to downtown Windsor! Born and raised in Pittsburgh, Pennsylvania, Barbara formed her own band in 1989, and followed up with her debut album 'Out Of The Blue', which was recorded in her then hometown in 1994. Performing nightly on historical Beale Street, Memphis for the past fifteen years, Barbara's understanding and cultivation of the Blues is deeper and richer than ever, and sure to thrill local audiences.
Adding to the line up is Jim Conway's Big Wheel - featuring the talents of the man himself, Jim Conway, alongside Don Hopkins, Jess Green, Stan Valacos, Andy Byrnes and R. P. White. Each member of 'Big Wheel' is uniquely talented and stylistically distinctive and while they each draw from a wide source of influences, collectively they exhibit an instantaneous and uncanny empathy. Over the last 12 months the band has put their energies into recording their long awaited second album, 'Share This Life'.
Now firmly established on the European and UK festival circuits, the Australian-based duo Hat Fitz and Cara Robinson blend old-time Mississippi Blues with Celtic influences to produce something entirely unique. Receiving worldwide praise for their musical endeavors, and with fans like Jeff Lang in their camp, they are sure to be one of the standouts of this year's festival.
A native of Canada, Matthew Barber is one of those truly gifted artists. His CV is impressive, to say the least - a seasoned songwriter and performer with five albums under his belt, numerous tours around his homeland and internationally, record deals across the globe, a Juno nomination and an award-winning musical to his credit. It's been two years since he last visited Australia, and way too long for his passionate fans!
Also joining the second line-up announcement is Dave Tice Band, Dr Don's Double Dose, Nat Col & The Kings, Claude Hay, Mojo Webb and Pete Cornelius, alongside another 30 stellar acts! They will unite with guitar maestro Ian Moss, Harmonica master Charlie Musselwhite, Melbourne blues/rockabilly Lanie Lane, acclaimed Australian folk artist Mia Dyson and many more, to entertain audiences around the picturesque surrounds of Windsor. Festival Creative Directors, Geoff Trio and Steve Griffiths of Code One Entertainment now begin the massive task of assigning these artists to one of the eleven venues utilised around the town (including a river cruise), using a combination of indoor and outdoor staging.
Don't miss the Sydney Blues & Roots Festival 2012 - your opportunity to catch these worldclass musicians in Windsor, NSW from Thursday 25th - Sunday 28th October.
The complete line-up for the Sydney Blues & Roots Festival:
The Angels - Ian Moss - Charlie Musselwhite (USA) - Lanie Lane - Mia Dyson - Ray Beadle - The Trews (Canada) - Captain Matchbox Whoopee Band - Backsliders - Chase The Sun - Joe Robinson - Jill Barber (Canada) - Billy TK Junior (NZ) - Barbara Blue (USA) - Jim Conway's Big Wheel - Dave Tice and Mark Evans - Hat Fitz & Cara Robinson - The Darren Jack Hammond Trio - Matthew Barber (Canada) - Sam Cutler (UK) - Dave Tice Band - Dr Dons Double Dose - Nat Col & The Kings - Claude Hay - Microwave Jenny - Ashleigh Mannix - Mojo Webb - Pete Cornelius - 8 Ball Aitken - Mojo Juju - Blind Lemon - Mason Rack - Glenn Cardier and the Sideshow - Benjalu - The Lloyd Spiegel Duo - The Lazys - Widowbirds - Marshall Okell - Genevieve Chadwick - SUPERHEAVEYWEIGHTS - Petulant Frenzy Play Frank Zappa - Nicholas Roy - Cass Eager & The Velvet Rope - Caravãna Sun - Eli Wolfe - Lachy Doley - Shaun Kirk - Stray Roots - Morgan Joanel - Lyall Moloney - Crooked Saint - Charlie A'Court (Canada) - Frank Sultana & The Sinister Kids - Minnie Marks - Joe Glover - The Childs - Two Girls Will - Penny & The Mystics - Max - Mojo Bluesmen - Tyran Hall - Dylan & Co - Laura Zarb - Aiden Abbey - Gramophone Man
Tickets On Sale Now!
Need your live music fix?