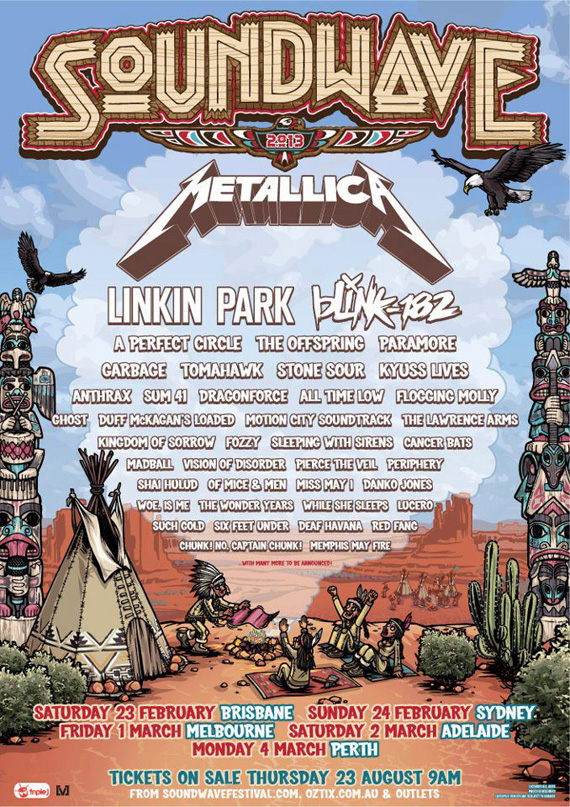 SOUNDWAVE 2013
Lineup Announce!
After months of watching AJ Maddah's twitter feed, an early confirmation from Blink 182 and one sleepless night the Soundwave Festival 2013 lineup has officially landed.
On Twitter earlier this week Maddah boldly announced, "I would be amazed if Bris/Syd/Melb do not sell out instantly... Honestly [I think Sydney will sell out in] under an hour." For any mathematicians playing along at home that's 50,000 tickets in less than 60 minutes.
Tickets for Soundwave 2013 are $187. There is no transaction fee or postage this year, but there's a transport levy of $2 if you're heading to the festival in Perth or Sydney which covers your public transport to and from the event. While it's a little early to start thinking about Sidewave shows Maddah has already (unsurprisingly) ruled out the possibility of any sideshows in Perth or Adelaide.
However he has announced that there'll be "some legendary sideshows" including at least one from Blink 182.
Soundwave Festival 2013 lineup:
Metallica, Linkin Park, Blink-182, A Perfect Circle, The Offspring, Paramore, Garbage, Tomahawk, Stone Sour, Kyuss Lives, Anthrax, Sum 41, Dragonforce, All Time Low, Flogging Molly, Ghost, Duff McKagan's Loaded, Motion City Soundtrack, Lawrence Arms, Kingdom Of Sorrow, Fozzy, Sleeping With Sirens, Cancer Bats, Madball, Vision of Disorder, Pierce the Veil, Periphery, Shai Halud, Of Mice & Men, Miss May I, Danko Jones, Woe Is Me, The Wonder Years, While She Sleeps, Such Gold, Lucero, Six Feet Under, Deaf Havana, Red Fang, Chunk! No Captain Chunk! and Memphis May Fire!
Soundwave 2013 dates:
Saturday 23rd February - Brisbane
Sunday 24th February - Sydney
Friday 1st March - Melbourne
Saturday 2nd March - Adelaide
Monday 4th March - Perth
Tickets on sale 9am
Thursday 23rd August, 2012
Need your live music fix?