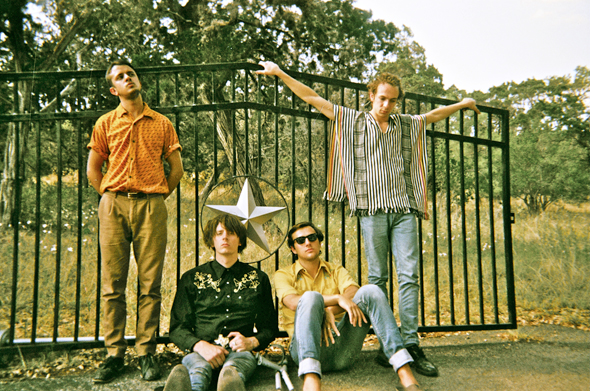 Chugg Entertainment, XIII Touring & SPA present
MYSTERY JETS
London based group Mystery Jets return to Australian in support of new album 'Radlands'. Mystery Jets have already been announced on the gigantic Fat As Butter Festival line-up, and now have announced headline shows across Perth and the East Coast.
The Australian dates start in Perth on Thursday 20 September at the Capitol, followed up by Sydney on Sunday 23 September at Metro Theatre, Brisbane on Tuesday 25 September at The Hi Fi and finishing up in Melbourne on Wednesday 26 September at the Corner Hotel.
Hailing from West London and three albums down the line, Mystery Jets have accrued success in abundance with their own quirky pop sound.
Their fourth album 'Radlands' saw the band relocate to Austin, Texas for the recording, which and was co-produced by Mystery Jets and Dan Carey (Hot Chip, Franz Ferdinand, Emiliana Torrini).
'Radlands'. The title is a reference to Terrence Malick's 1973 film Badlands and Keith Richard's Sussex estate Redlands.
"Their boldest and most fantastically frisky record to date." The Fly (UK)
"A return to straighter indie rock'n'roll" NME
"it is incredibly easy to listen to - think the sweetness of The Thrills meets Neil Young" FASTERLOUDER
PRESALE Tickets On Sale AUGUST 1 -
THE PASSWORD IS RADLANDS!
Need your live music fix?
Search for FAT AS BUTTER here.
September 22 - Camp Shortland, NEWCASTLE
Search for RED DEER FEST here.
September 1 - Bella Vista Deer Farm, MT SAMSON
Search for RUFUS here.
Touring August