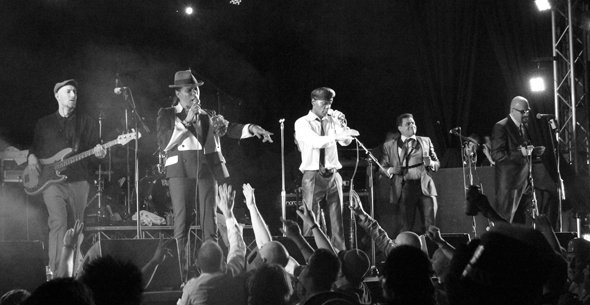 Metropolis Touring and Tombowler present
THE SELECTER
For the very first time in Australia with their full UK 8-Piece band!
Seminal British 2-Tone outfit, THE SELECTER are thrilled to announce their very first trip to Australia this November. This most vital and visceral of British bands will bring their infectious musical message of multiculturalism and hope around the country and are guaranteed to set crowds alight with their bop-tastic fusion of ska-pop-reggae.
THE SELECTER pioneered the ska revival movement alongside label mates, The Specials & Madness, and were responsible for some of the scene's classic hits, including "On My Radio", the frenetic "Three Minute Hero", "Celebrate the Bullet" (ridiculously banned at the time by the BBC) and the quintessential 2-Tone track "Too Much Pressure".
What made THE SELECTER one of the greatest bands to come from the ska revival movement was their secret weapon - Pauline Black. THE SELECTER's iconic front woman is reverently referred to as the First Rude Girl of Ska - with Rolling Stone Magazine declaring, "Hands down, Pauline Black possessed the best voice that ever graced a 2-Tone release" and Gwen Stefani citing her as one of her formative influences.
Success for THE SELECTER came about quite by accident in 1979 when their Coventry friends The Specials had recorded "Gangsters" as a single but spent too much money on the recording and had no money left for the B-side. In stepped whatwas to become THE SELECTER with a self-titled instrumental. That could have well been the end of it but due to the amazing reaction they decided to form a band and subsequently released their debut album 'Too Much Pressure', widely considered one of the best albums of the 2-Tone era.
In 2010, Pauline Black reunited with the band's cosinger, the brilliantly charismatic Gaps Hendrickson known for his incisive toasting on the mic, to celebrate the 30th Anniversary of their classic debut album. Since then, this refreshed and revitalised 8-piece line-up has been the recipients of a wave of critical and popular acclaim for their live performances which maintain the same energy, groove and passion.
Australia finally has the opportunity to witness one of the true originals of the 2-Tone era - get in early because this is one show you absolutely do not want to miss!
"The Selector turned the crowd on the dance-floor into a single throbbing creature." L.A.Times
Tickets On Sale Now!
Need your live music fix?
Search for BIGSOUND LIVE here.
Various Fortitude Valley Venues, BRISBANE - 12th & 13th September
Search for the living end here.
Touring November - December
Search for fat as butter here.
Camp Shortland, NEWCASTLE - 22nd September