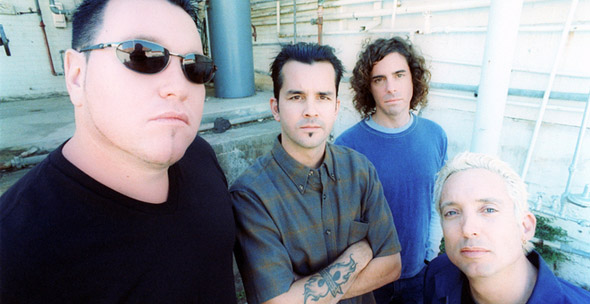 Big Apachee presents
SMASH MOUTH
Smash Mouth, the band that gave us crazy memorable hits like 'All Star,' 'Walkin' On The Sun,' 'Then the Morning Comes' and 'I'm A Believer' among many others, are set to release a brand new party album, MAGIC, on 429 Records though Universal Music Australia on 7 September.
They have just announced a national tour of Australia to coincide with the album release. This will be Smash Mouth's second tour of Australia.
The band is back with original members Steve Harwell (vocals), Paul Delisle (Bass) and Mike Klooster (keyboards). Rookie players this time around are Randy Cooke (drums) and Mike Krompass (guitar). Krompass, who has worked with Nelly Furtado and David Archuleta in the past, also helmed the producer's mantle, capturing the quintessential Smash Mouth party sound as well as helping to take them to the next level. The band has sold over 10 million albums worldwide, and this is their first album in six years.
The release of the album is perfectly in tune with the band's reputation for being the "sound of summer" and Australian fans can get a jump on the summertime vibe when MAGIC is released.
Says Steve Harwell: "We're so excited to start performing some of the new songs from this album. We've got so many hits on this new record it's ridiculous! So get ready for some serious MAGIC!"
MAGIC is a no-holds-barred party from start to finish. First-listen gems such as 'Flippin' Out' and title-track 'Magic' jump out at you like a barrel full of monkeys. On tracks like 'Better With Time' and 'Out Of Love' we hear just how much Steve Harwell's voice has developed from the rantin'-chantin' approach he favoured on early Smash Mouth offerings. He's equally strong on 'Future Ex-Wife', this heartbreaking-hilarious ode to doomed domestic bliss is also as catchy as they come.
From their debut in 1997 when the smash hit 'Walkin' On The Sun' (played by KROQ in LA before any label deal) powered their album 'Fush Yu Mang' to double platinum sales, the band has scored hit after hit worldwide. Smash Mouth has toured extensively with notable stops in Afghanistan, Iraq and Guantanamo Bay where they entertained U.S. troops.
Tickets On Sale JULY 30!
Need your live music fix?