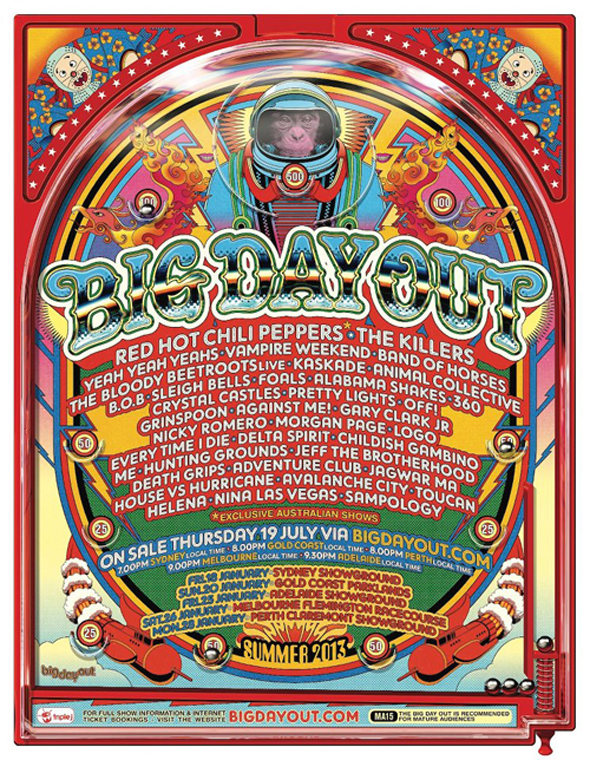 RED HOT CHILI PEPPERS & THE KILLERS HEADLINE THE 2013 BIG DAY OUT!
FULL SHOW COMING BACK TO ADELAIDE & PERTH!
Special ALL INCLUSIVE $165 TICKET PRICE & NEW 'LIKE A BOSS' TICKET
This summer, Big Day Out will play host to the ONLY AUSTRALIAN SHOWS by the RED HOT CHILI PEPPERS. These will be their first Australian festival shows since their record setting headline performances in 2000. Big Day Out is also welcoming back festival heavyweights THE KILLERS who return with a new album under their belts.
Big Day Out also welcomes 30 first-timers to the tour in 2013 including YEAH YEAH YEAHS, VAMPIRE WEEKEND, BAND OF HORSES, ANIMAL COLLECTIVE, AGAINST ME!, 360, FOALS, B.o.B, SLEIGH BELLS, JEFF THE BROTHERHOOD, OFF!, JAGWAR MA, DELTA SPIRIT, EVERY TIME I DIE and HOUSE VS HURRICANE.
We are proud to present for the first time on Australian shores the ALABAMA SHAKES, CHILDISH GAMBINO, LOGO, DEATH GRIPS, ADVENTURE CLUB and GARY CLARK JR.
Australia's original dance music festival within a festival, The Boiler Room will return to it's ground breaking roots, bringing you performances from the future so you can dance in the now. Dance-punk headliners THE BLOODY BEETROOTS will perform the world premier of their new live show along with full production sets from KASKADE, CRYSTAL CASTLES, PRETTY LIGHTS, NICKY ROMERO, MORGAN PAGE and SAMPOLOGY with his AV/DJ show.
A very limited number of Holographic Souvenir Big Day Out tickets are available from 8am Monday 16 July at select General Pants Co. stores with each ticket going in the draw to win a trip for 2 to our sister festival the world famous Lollapalooza in Chicago! Have your passport ready as each ticket purchase from General Pants Co. allows entry to win a week in Chicago for two including 3 Day tickets to the sold out Lollapalooza August 3-5, 2012. THAT'S IN TWO WEEKS! Your summer starts now!
Big Day Out 2013 tickets go on sale Thursday July 19 from 7pm
7.00pm SYDNEY Local Time
8.00pm GOLD COAST Local Time
8.00pm PERTH Local Time
9.00pm MELBOURNE Local Time
9.30pm ADELAIDE Local Time
Need your live music fix?
Search for HARVEST here.
Touring November
Search for PEATS RIDGE FESTIVAL here.
Glenworth Valley, Peats Ridge - 29th December - 1st January
Search for FALLS FESTIVAL here.
VIC & TAS - 28th December - 1st January