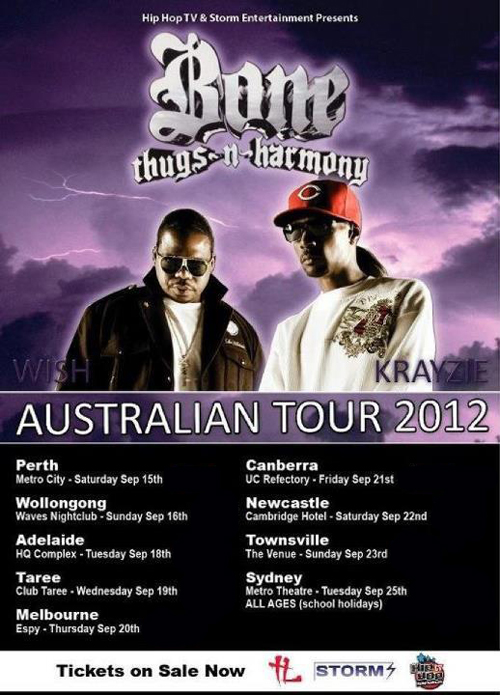 Hip Hop TV and Storm Entertainment present
Bone Thugs N Harmony
With over 20 sold out Australian shows under their belt, Grammy Award winning Hip-Hop legends Krayzie Bone and Wish Bone from Bone Thugs N Harmony are returning to their 'second home' Australia, with a line-up of shows hitting Sydney, Melbourne, Perth, Canberra, and Adelaide, plus regional areas including the Wollongong, Townsville, Newcastle, and for the first time, Taree.
With over 30 million albums sold worldwide, and tracks recorded with some of the most respected names in the business including 2Pac, Notorious B.I.G, and Mariah Carey to name but a few, Bone Thugs N Harmony are one of the most popular hip hop groups of all time, and continue to have a cult following to this day.
With the original Bone Thugs N Harmony line up reuniting for Rock The Bells in the USA in August this year, there has been worldwide-renewed interest in the band. There are talks of new music in the works, plus artists such as Drake and Wiz Khalifa have come out and expressed their love and respect for a legendary band that created a purely unique sound.
Krayzie Bone and Wish Bone are set to light the Australian stages on fire doing all the BTNH classics, plus some brand new material. This is a unique school holidays event that is not to be missed!
Tickets On Sale Now!
Need your live music fix?