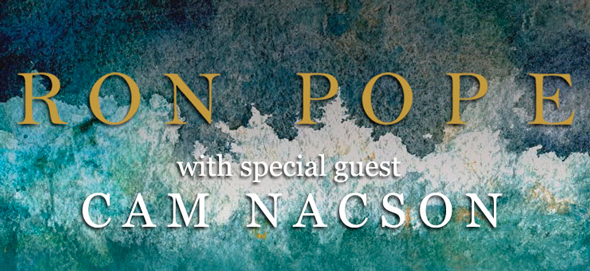 The Frontier Touring Company presents
Ron Pope
with Special Guest Cam Nacson
The Frontier Touring Company is delighted to announce three very special performances by the incredibly talented singer, gifted guitarist and prolific songwriter, Ron Pope.
This will be the performer's first ever Australian tour and those who are lucky enough to attend these intimate performances are in for a treat.
Pope will be touring Australia in celebration of his latest offering, Atlanta (out now). The album highlights Pope's versatility, performing everything from emotive ballads to drum-driven rock songs, to capture the love of fans and critics alike.
'Painting a picture that's uniquely his is a strength Pope has shown throughout his career... Atlanta is a return to form for a true master singer-songwriter.' - AThousandGuitars.com
Pope came to the world's attention in 2005 with the breakthrough single 'A Drop In The Ocean', loved by fans and critics alike.
The clip has earned almost 20 million views on YouTube, almost 1 million singles have been sold on iTunes and the song has popped up on television shows including So You Think You Can Dance, The Vampire Diaries and Made In Chelsea.
Since then, the prolific writer has released eight studio albums, introducing the world to his mesmerizing lyrics and mastering of the guitar.
Put Pope's soulful voice on a live stage and the music comes alive. The stories and emotions shared through his songs are powerful enough to entrance even the most raucous of crowds.
Joining Pope for these intimate shows will be local talent Cam Nacson. Pope is the performer's 'mentor turned mate', who helped Nacson become the finely tuned singer-songwriter he is today.
Music has been flowing through Nacson's veins since his formative years. Raised on a diet of musical greats and picking up the guitar from the age of nine, it was inevitable that Nacson was to become a performer.
Nacson has mastered the smart pop genre, with three self-produced EPs full of songs that are both emotion-invoking and inevitably catchy.
Be quick to grab tickets to see Ron Pope and his special guest Cam Nacson when they take the stage for these three very special shows.
Tickets On Sale Now!
Need your live music fix?
Search for OWL EYES here.
Touring August
Search for FAT AS BUTTER here.
Camp Shortland, NEWCASTLE - September 22
Search for PASSENGER here.
Touring August