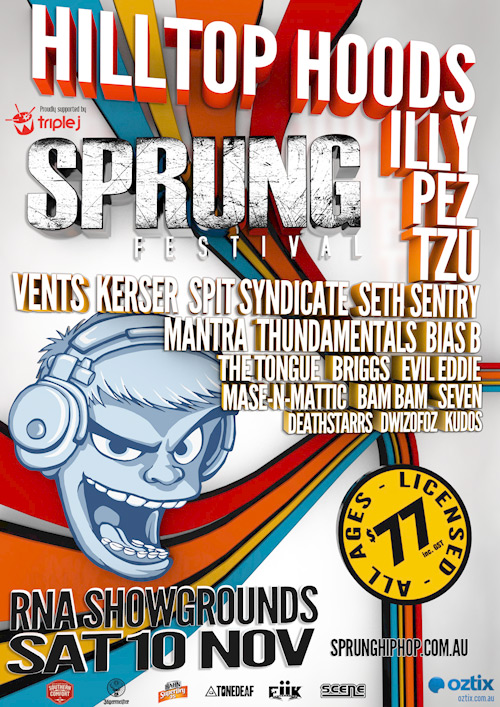 Clockwork Entertainment Presents
SPRUNG FESTIVAL
Hilltop Hoods headline SPRUNG HIP HOP Festival 2012!
After blowing the roof off Brisbane in 2011, SPRUNG HIP HOP festival is back and bursting at the seams with the biggest line up of Aussie hip hop that the country has ever seen! Moving to their new home at the RNA Showgrounds, this All Ages event is carrying some of the biggest guns around and on Saturday November 10 they're coming out to fire... um, we mean PARTY!
The most explosive hip hop line-up to come to Brisbane since last year's SPRUNG HIP HOP festival features ARIA Award winning, number one chart toppers HILLTOP HOODS alongside a stellar line-up that includes ILLY, PEZ, TZU, VENTS, KERSER, MANTRA, SPIT SYNDICATE, SETH SENTRY, THUNDAMENTALS, BIAS B, BRIGGS, THE TONGUE, EVIL EDDIE, MASE N MATTIC, BAM BAM, SEVEN, DEATHSTARRS, DWIZOFOZ and KUDOS.
General Admission Tickets are set at a low $77 (+ bf). Boldly bringing the price back to what people would have been paying for a ticket to a music festival in the 1990s. For the hardcore die-hard fans who are quick on the uptake, advance tickets will be available and on sale to SPRUNG HIP HOP mail subscribers at the insane price of $66 (+ bf). Advance tickets are limited with first in best dressed being able to take up the glory. This is an ALL AGES EVENT so no one misses out. Promoters are keen to give everyone the chance to get "SPRUNG".
Tickets On Sale JULY 6!
Need your live music fix?
Search for HILLTOP HOODS here.
Touring June - August
Search for ILLY here.
Touring August - September
Search for KERSER here.
Touring July