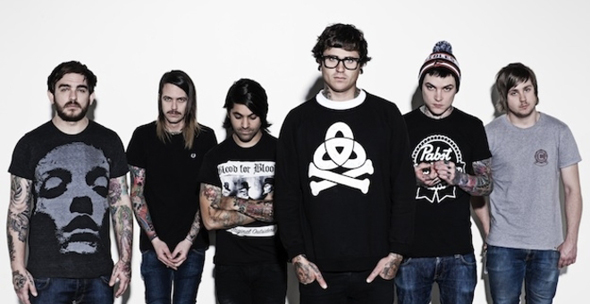 Destroy All Lines, UNFD, Vans, Blunt Magazine & Killyourstereo.com present
THE AMITY AFFLICTION
The Chasing Ghosts Tour
2012 is THE AMITY AFFLICTION's year. This spring THE AMITY AFFLICTION will embark on their biggest run of Australian dates yet, in support of the highly anticipated release of Roadrunner Records debut Chasing Ghosts. The tour features a massive international undercard that ticks all the right boxes. Featuring California's metallic hardcore kings THE GHOST INSIDE, Brighton's modern metal lords ARCHITECTS and capped off with local juggernauts BURIED IN VERONA, every date on the Chasing Ghosts Tour will start hard from the first beat and not relent.
Tens of thousands of fans showed their solidarity in 2012 when THE AMITY AFFLICTION embarked on two massive headline tours. The quintet co-headlined the inaugural Destroy Music Tour and followed it up in October with the even bigger Fuck The Reaper Tour. From there they went on to appear nationally on the Big Day Out 2012, well and truly cementing themselves as a household name in Australian hardcore. Keeping the ante high, around all that time on the road they also managed to write and travel to the United States to record Chasing Ghosts, the follow up to the highly successful Youngbloods, which debuted #6 on the ARIA Charts.
Speaking on behalf of his band mates, Joel Birch stated, "We're all loving the new songs. It feels like there is an entire album of awesome songs that we love which hasn't happened prior to this; we've finally written an album we are proud of from start to finish, no filler whatsoever." The singer also commented on the lyrical direction of Chasing Ghosts, revealing, "I've tried to write my thoughts in a manner that can connect with people on an even more personal level than I did on Youngbloods, and I'm proud that the substance and depth hasn't been lost or compromised, or watered down." THE AMITY AFFLICTION will showcase the new material on the Chasing Ghosts Tour with their biggest run of dates in the band's eight years together.
No strangers to our shores, THE GHOST INSIDE return with their Epitaph debut Get What You Give. Coupling their signature deeply personal vocals, urgent riffing and pile-driving breakdowns with a renewed energy and determination, the release is nothing short of the band's most dynamic and explosive material thus far. Expect a crushing live delivery when the Cali quintet steps on stage come September.
ARCHITECTS have never been ones to rest on their laurels either, packing in an extensive international touring schedule tightly around writing and recording. They return for the Chasing Ghosts Tour with a brand new offering, Daybreaker. The release is a sweeping show of strength in terms of how intense, colourful, dynamic and multifarious modern metal can be and lyrically captures the bands growing maturity. ARCHITECTS are well and truly primed to flex their muscles live Down Under this spring.
BURIED IN VERONA released their third album Notorious via UNFD in June to an overwhelming response, debuting at #20 on the ARIA Charts and winning over fans country-wide. This opening slot on THE AMITY AFFLICTION's tour comes off their huge headlining tour that saw thousands of fans cram into venues all over the country to see what is one of Australia's most promising up and comers.
Legions of fans across the nation know exactly what they can expect of The Chasing Ghosts Tour. Don't miss out when the show comes to your town.
Tickets On Sale Now!
Need your live music fix?