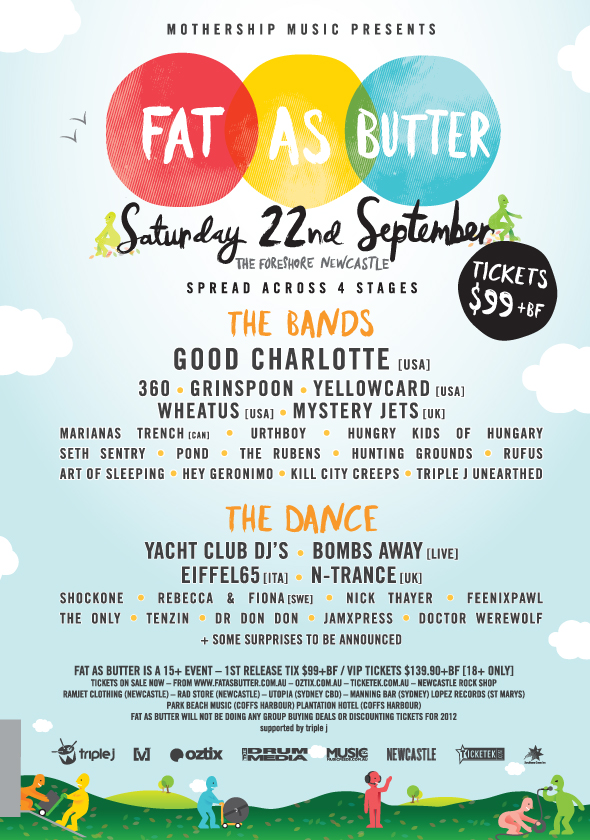 Mothership Music presents
FAT AS BUTTER
2012 Line Up Announced!
Fat As Butter Festival cordially invites you to our BIG FAT FESTIVAL, this year featuring something old, something new, something borrowed and something blue.
Held on Newcastle's pristine foreshore, Saturday September 22, organizers are excited to announce this year's festival is open to 15 + and the first release of GA tickets will be $99.00 + bf.
Once again the festival will be held across four stages, with a selection of international and local talent, spanning from dance, hip hop, rock, punk and everything in between.
2012 FAT AS BUTTER LINE UP
THE BANDS
GOOD CHARLOTTE [USA]
360
GRINSPOON
YELLOWCARD [USA]
WHEATUS [USA]
MYSTERY JETS [UK]
MARIANAS TRENCH [CAN]
URTHBOY
HUNGRY KIDS OF HUNGARY
POND
SETH SENTRY
THE RUBENS
HUNTING GROUNDS
RUFUS
ART OF SLEEPING
HEY GERONIMO
KILL CITY CREEPS
THE DANCE
YACHT CLUBS DJ'S [LIVE]
BOMBS AWAY
REBECCA and FIONA [SWE]
EIFFEL 65 [ITA]
N-TRANCE [UK]
SHOCKONE
NICK THAYER
FEENIXPAWL
THE ONLY
TENZIN
DR DON DON
JAMXPRESS
DOCTOR WEREWOLF
+ Some surprises to be announced
Joel and Benji Madden are bringing Good Charlotte to Newcastle, headlining the day in the only way they know how – loud and proud. After announcing a hiatus in 2011, it didn't take long for the boys to get itchy feet and return to the stage. Their latest single, Last Night, has appeared in American Pie: The Reunion and made it to #3 on the US Billboard Charts. And of course Joel is no stranger to Australian audiences, after just finishing the first season of Channel 9's The Voice.
After a killer six months that has seen 360 notch up a Top 5 ARIA single and album, a platinum single for Boys Like You, two sell-out national tours and the Channel [V] Oz Artist 2011 award, you'd be forgiven for thinking the foul-mouthed Melbourne rapper was running out of available shelf space. Coming off a sold out national tour and a sold out Come Together Festival, 360 is set to be an act that just can't be missed.
Aussie rock legends Grinspoon will add some classic Aussie rock to the bill, on the back of the release of their seventh studio album. US pop-punkers Yellowcard are returning to the stage after a two-year hiatus, college rockers Wheatus will undoubtedly bring back teenage dirtbag memories, while Mystery Jets, bring a taste of UK indie pop. And be prepared for anything when Canada's Marianas Trench, hit the stage. The band are known for their 'creative' stage entrances, the boys have been known to arrive on stage in a bouncy castle riding inflatable horses, inside human sized hamster balls, a hot tub, a large float, and carrying a party subway sandwich for fans in 2007.
From the homegrown Aussie garden, comes a true mix-bag of flavours, including Aussie hip hop artists Urthboy and Seth Sentry, indie sensations Hungry Kids of Hungary and Art of Sleeping. While the rest of the day rounds out with psychedelic Perth natives Pond, previous triple j unearthed high winners Hunting Grounds, blues/rock outfit The Rubens, electro dance Sydney siders Rufus, kooky upbeat Brisbane boys Hey Geronimo and Sydney garage rock group Kill City Creeps make their festival debut!
The dance stage promises to get the crowd sweating, fists pumping and lyrics dropping with local favourites, Yacht Club DJs, Bombs Away and Rebecca & Fiona, electronic masterminds Nick Thayer, Jamxpress, Feenixpawl, Tenzin, Dr Don Don, The Only and genius Dub step DJ's Shockone and Doctor Werewolf.
Adding some old skool fun for the day will be Eiffel 65 who dominated the international charts in 1999 with "Blue (Da Ba Dee)" hitting the #1 stop around the world. And British outfit N-Trance, who sold over 5 million records world wide and will tear up the dance floor with their hits "Set You Free", "Stayin' Alive", "Da Ya Think I'm Sexy?"
If variety is the spice of life, Fat As Butter is proud to announce one FAT and FLAVOURSOME lineup.
See you September 22!
FAT AS BUTTER 2012
Saturday September 22
Camp Shortland, The Foreshore, NEWCASTLE
GATES OPEN 11.30AM
1ST Release Tickets - Members Presale - June 26
ONSALE – 10AM
GA - $99.90 + BF
VIP - $139.90 + BF
General Public – June 28
ONSALE AT MIDDAY
GA - $99.90 + BF
VIP - $139.90 + BF
Fat As Butter is open to everyone 15 years and older. 18+ only VIP area available for those wishing to up the ante for their FAB experience!
Tickets On Sale Now!
Need your live music fix?