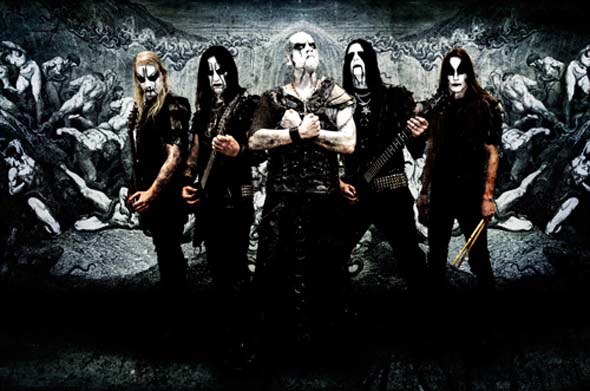 Metropolis Touring and Ragged Company presents
DARK FUNERAL
Swedish Black Metallers Dark Funeral return to Australia once again to terrorise our stages with "vast walls of sound" and their "classic black metal, with clouds of red dry ice and an ominous electronic drone announcing the songs" (Metal Hammer)
Forming in 1993 in Sweden, Dark Funeral are a force to be reckoned with, due to their in your face, satanic, dark metal music known across the land as "one of the leading black metal bands."- All Music.
Dark Funeral's stage show is unlike any other. In addition to their intense musical ferocity, their performances are adorned with all the stagecraft the black metal genre can deliver; corpse paint, weapons, spikes and fire breathing. It's a spectacle you can only comprehend live and in the flesh.
Dark Funeral's war machine has been firing on all infernal cylinders since their formation. They have crafted the signature Dark Funeral sound featuring complex melodies and Satanic lyrics melded with freakish speed, unbound aggression and sheer, blasphemous volume. Dark Funeral built their metal empire through over 15 years of constant touring and recording consistently acclaimed EPs and albums. Their dedication to devastation, both live and in the studio, has earned them a reputation as the most sinful and powerful band of their genre with a world wide following to prove it.
Featuring a new unholy line-up of committed conspirators, Dark Funeral bring their "magnificently brutal" Nordic black metal blizzard back to Australia to stake their claim amongst the premier elite of the black metal world.
Tickets On Sale JUNE 28!
Need your live music fix?
Search for TERROR here.
Touring July
Search for RUSSIAN CIRCLES here.
Touring September - October
Search for ROSETTA here.
Touring July - August
WARNING: The following video contains graphic violence -
not suitable for all ages!