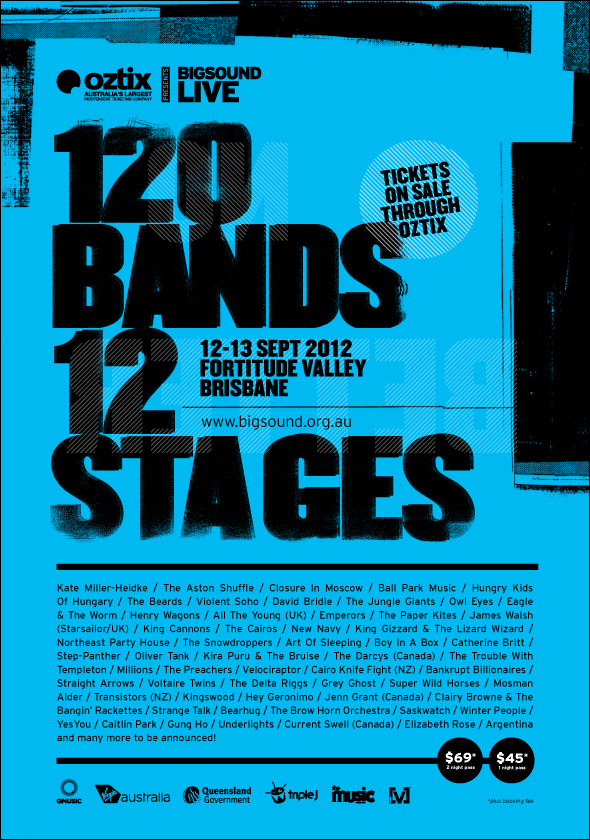 Qmusic and oztix present
BIGSOUND LIVE
BIGSOUND LIVE EXPANDS, ANNOUNCES 50 ARTISTS!
BIGSOUND Live is pleased to announce that thanks to new major sponsor oztix, the event has been further extended for 2012 to host 120 of the world's hottest artists in twelve Fortitude Valley venues over two nights, September 12 and 13.
The new artist announcement features over 50 artists and is headed by The Aston Shuffle, Closure in Moscow, Ball Park Music, Henry Wagons, Strange Talk and Emperors. The lineup will also include the legendary David Bridie, Adelaide's favourite facial hair aficionados The Beards and country star Catherine Britt, bringing a depth and variety to what has become the annual industry gathering for the music community together across the breadth of its diverse genres.
Proof of BIGSOUND's lure for international artists is evident with the inclusion also of Starsailor's James Walsh (UK), The Darcys (Canada), All the Young (UK) and Cairo Knife Fight (NZ) among others. These names are added to the previously announced line-up including Kate Miller Heidke, Violent Soho, Oliver Tank and more.
"The number of artists and showcasing venues for BIGSOUND LIVE has doubled in the last two years. This, along with the quality and diversity of artists showcasing ensures that this is a must attend event for the global music community", said BIGSOUND programmer Graham Ashton.
BIGSOUND Live's major partnership with national ticketing company oztix extends a long association which further assists the growth of the event.
"BIGSOUND is Australia's biggest and best annual music industry event and oztix is extremely excited and proud to be sponsoring BIGSOUND Live this year. oztix is Australia's largest independent ticketing company, so it just makes sense to partner with Australia's largest music industry bash!" said oztix CEO Brian "Smash" Chladil.
BIGSOUND will also host daily music forums and discussions including a keynote from one of the planet's most perplexing artists Ben Lee, EMI Chairman Mark Poston as well as international industry guests including Jack White's Third Man Records MD Ben Swank (US), Spotify's Rene Chambers (UK), Lisa Hresko (US) editor of CMJ, Primavera's David Jimenez-Zumalacarregui (Spain), C3 Presents' Aly Ehlinger (Lollapolooza, Austin City Limits) (US), Merlin's Charles Caldas (UK), and Grouplove managers Nicky & Ben Berger (US).
Tickets for BIGSOUND are now available at the special rate of just $395 for members and $495 for non-members through the BIGSOUND website. This discount price is available until July 31 and includes entry to all official conference sessions, parties, after-parties and BIGSOUND Live music events.
Tickets for BIGSOUND Live only are available through oztix for just $45+BF for one night (60 bands) or $69+BF for both nights (120 bands). Click here to grab your tickets!
Need your live music fix?