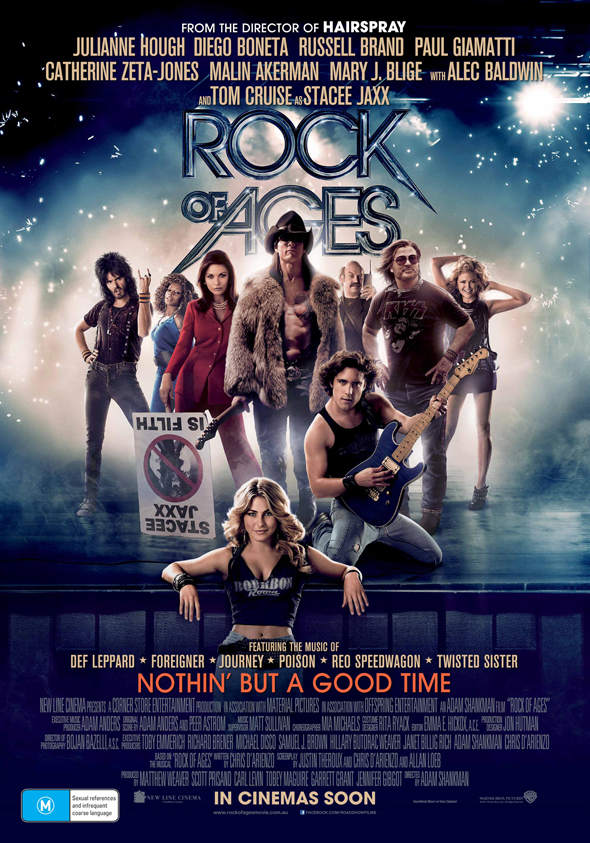 WIN TICKETS TO THE
QUEENSLAND PREMIERE OF
Rock of Ages!
Wanna get your rock on at the Rock of Ages Queensland Premiere?
Based on the smash hit Broadway musical of the same name, Rock of Ages tells the story of small town girl Sherrie (Julianne Hough) and city boy Drew (Diego Boneta), who meet on the Sunset Strip while pursuing their Hollywood dreams. Their rock'n'roll romance is told through the heart-pounding hits of Def Leppard, Foreigner, Journey, Poison & Twisted Sister with an all star supporting cast including Russell Brand, Paul Giamatti, Catherine Zeta-Jones, Alec Baldwin and Tom Cruise as Stacee Jaxx!
You and a guest could be rocking up to rock out on Tuesday 12th June at EVENT Cinemas Myer Centre. We've got 20 double passes to give away to this special premiere event thanks to Warner Bros. Pictures.
To enter, check out the trailer below and send us an email at info@oztix.com.au with the answer to this question:
In Rock of Ages, this actor plays legendary rocker Stacee Jaxx. He is a three-time Academy Award nominee for his performances in Born on the Fourth of July, Jerry Maguire and Magnolia. He is also known for his starring roles in action films such as Top Gun, The Last Samurai and the Mission Impossible franchise. Name this actor!
Rock of Ages, only at the movies June 14 thanks to Warner Bros. Pictures.