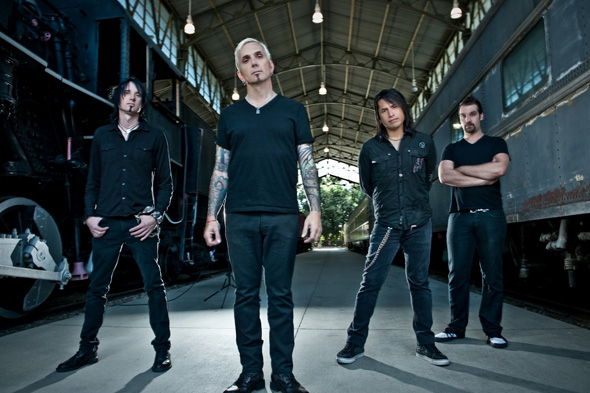 KillRockStar BigDog Entertainment presents
Everclear
Australian Tour 2012
After a 14 year absence KillRockStar BigDog are proud to present power pop sensations Everclear live in Australia in 2012.
Lead by founder and mastermind Art Alexakis and armed with his swag of catchy, guitar driven pop gems, Everclear were an ubiquitous presence on the world's airwaves and TV feeds from the early part of the 90's onwards. Songs like Heroin Girl, Santa Monica, I Will Buy You A New Life, So Much For the Afterglow and Father Of Mine amongst many others showcased a band that could not only deliver one infectious anthem after another, but one that could also deliver enough lyrical substance and soul as to strike a resonant chord in the hearts and minds of the slacker generation, elevating Everclear above being just another throwaway pop band with loud distorted guitars and clever hooks.
Starting out in Portland, Oregon in 1992 Art Alexakis teamed up with bass player Craig Montoya and drummer Scott Cuthbert and choosing a name ode to a notoriously vicious brand of pure grain alcohol, Everclear began writing and recording what would be the debut Nervous and Weird EP and their first long player World Of Noise. From here major label interest stirred and Everclear signed to Capitol Records and with new drummer Greg Eklundi added to the fold the band recorded their second album Sparkle and Fade. The album spawned the singles Heroin Girl and Santa Monica and heralded the arrival of a new musical force with the album achieving platinum sales status.
Everclear's third album So Much For The Afterglow was released to much acclaim in 1996 with it's catchy as hell title track and the poignant hit single Father of Mine the band were propelled into the mainstream conciousness, with the album going on to achieve a Grammy nomination for the track El Distorto de Melodica and double platinum sales status. From this point on Everclear went on to release three more albums for Capitol Records, American Movie, Vol. 1: Learning How to Smile, American Movie, Vol. 2: Good Time for a Bad Attitude, and Slow Motion Daydream until it was decided in 2003 that a move away from the major label landscape was required.
Free from the shackles of their previous label a new look Everclear with Alexakis still firmly at the helm emerged in 2006 with the album Welcome To The Drama Club and in The Vegas Years, a collection of covers released in 2008. The band's current line-up features the ever present Alexakis, along with David French on guitar, Freddy Herrera on bass, Josh Crawley on keys and Sean Winchester on drums. A brand new Everclear album titled Invisible Stars is planned for release later in 2012. "In some ways, this album's a lot more aggressive than anything we've done in a long time," Art Alexakis says of Invisible Stars, Everclear's first collection of new songs in six years as well as the band's first eOne release. "But in other ways, it's a lot more melodic. I like having both of those sides covered."
Tickets On Sale JUNE 1!
Need your live music fix?