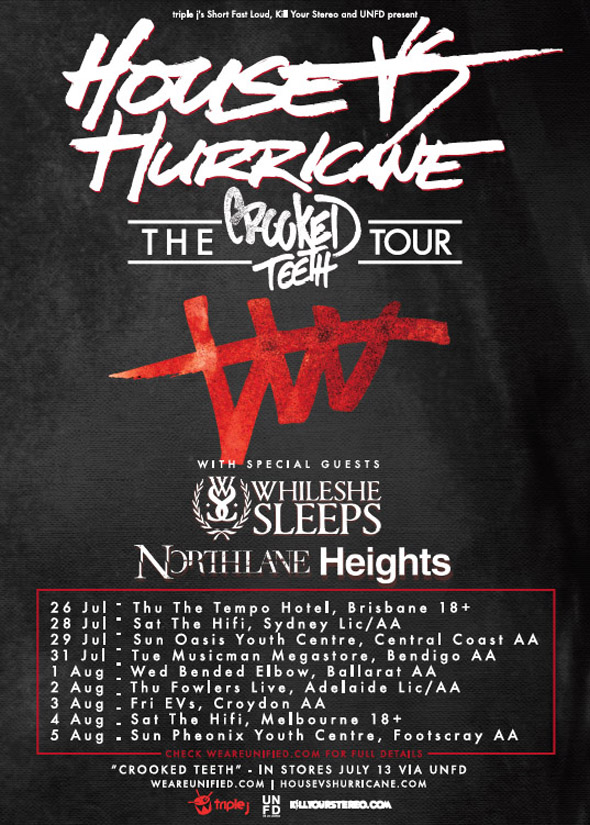 triple j's Short Fast Loud, Kill Your Stereo and UNFD present
House Vs Hurricane
The Crooked Teeth Tour
UNFD is proud to announce that Melbourne's House Vs Hurricane have finished recording their second album, Crooked Teeth and are gearing up for its release this Winter. The album is their first with new frontman, Dan Casey who joined late 2011. Behind Casey's energy and enthusiasm, they have delivered one of the albums of the year, brimming with attitude and fresh ideas, and full of the kind of high octane hooks to set the heavy music world on fire.
Crooked Teeth is the first House Vs Hurricane album to be released via independent powerhouse UNFD, and was recorded by Machine in New Jersey in March/April this year. Throughout recording, the band started making a series of videos to connect fans to the experience with Episodes 1-3 currently online, and the remaining 3 episodes to go live over the coming month.
"Blood Knuckles" is the first single from the album and it was launched exclusively on triple j's "Short. Fast. Loud" program and is now available over at UNFD's YouTube Channel.
To celebrate the release of Crooked Teeth, House Vs Hurricane will be touring in July and August. Along for the ride will be While She Sleeps, Northlane and Heights.
While She Sleeps hail from Sheffield in the United Kingdom, where they have built a massive reputation in a short amount of time. Headlining to thousands of punters already, things are about to explode for the band as they gear up for the release of their new album via Shock Records later this year.
Northlane, meanwhile, have fast become a touring force within Australia. Their debut album "Discoveries" was released via UNFD in November 2011, and has since the band rise to prominence in Australia with their heavy-as-hell live show and exceptional songwriting. UK rock band Heights will round out the bill, their album "Dead Ends" is available on iTunes.
Tickets On Sale Now!
Need your live music fix?