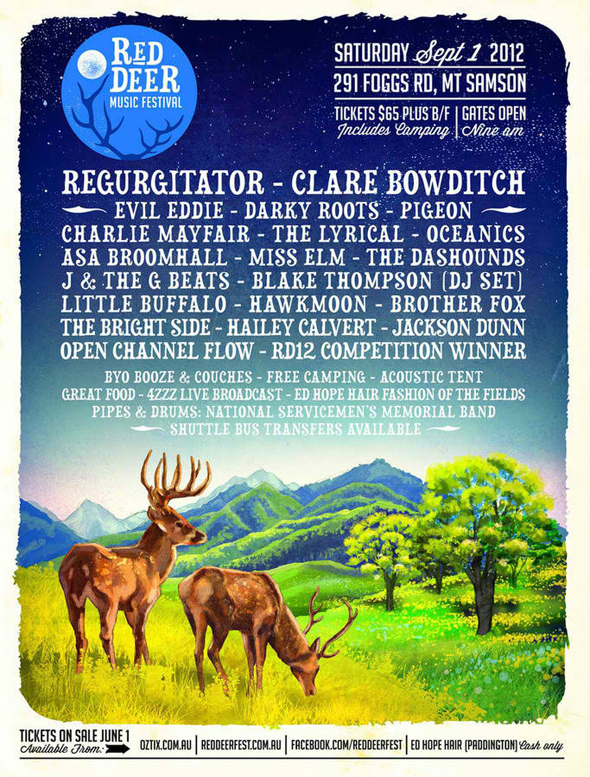 Red Deer Music Festival Pty Ltd presents
RED DEER FESTIVAL
Hold onto your glow sticks - the wait is finally over. Brisbane's Red Deer Music Festival has returned with a vengeance and will this year headline with iconic shock-pop indie-rock band Regurgitator and Australia's best loved folk angel Clare Bowditch.
Now in its third year, the vibrant grass-roots music festival will well and truly "up the anti" when on September 1st it brings to the stage a caliber of musicians never before seen in the festival's young history.
With a career now in their 19th year, Quan Yeomans, Ben Ely and Peter Kostic will rock the audience with home-grown Regurgitator classics from their signature genre-spanning repertoire. Their appearance follows the August 2011 launch of their playful new album SuperHappyFunTimesFriends.
Aria award-winning Melbourne singer / songwriter Claire Bowditch will also grace the bill and delight crowds with the heart-felt melodies, awe-inspiring acoustics and multi-layered brilliance that shot her to fame in the Australian music industry and got fans falling at her feet.
Festival director Sean Graham said Red Deer had this year expanded in size a further 50 percent to cope with increasing demand for a smaller-scale, quality alternative to other more commercialised Australian music festivals.
"The festival is primarily focused on delivering a fresh and exciting grass-roots event that facilitates an eclectic atmosphere and strong sense of togetherness among performers and punters."
Graham said although Red Deer would feature an impressive line-up of bands including Evil Eddie, Darky Roots, Charlie Mayfair, Pigeon and Asa Broomhall, it also served as a platform for independent and up-and-coming musicians to showcase their talents in front of a legitimate, home grown festival crowd.
"Red Deer strives to endorse some of the Australia's most talented contemporary artists while also catering to a variety of tastes across several musical genres. It is also committed to supporting the unsigned musicians of the South East Queensland region and allocates a number of spots on the bill to be filled by these bands," he said.
Festival organisers have also confirmed one last spot had been left on the bill for the winner of a facebook competition requiring entrants to upload a video of themselves performing a cover song of any Australian artist. Entrants are encouraged to visit the Red Deer facebook page for further details.
Graham also said Red Deer was upholding its commitment to commercial integrity by offering patrons comparably low-cost tickets which included an on-site camping pass, as well as the opportunity to BYO alcohol.
"Our aim is to reduce the financial burden on guests and we want people to look forward to an exciting day of great music, vibrant cultural performances, gourmet food and market stalls."
Regurgitator - Clare Bowditch
Evil Eddie - Darky Roots - Pigeon
Charlie Mayfair - The Lyrical - The Oceanics
Asa Broomhall - Miss Elm - The Dashounds
J & the G Beats - Blake Thompson [DJ set]
Little Buffalo - Hawkmoon - Brother Fox
The Bright Side - Hailey Calvert - Jackson Dunn
Open Channel Flow - RD12 Competition Winner
Tickets On Sale JUNE 1ST!
Need your live music fix?