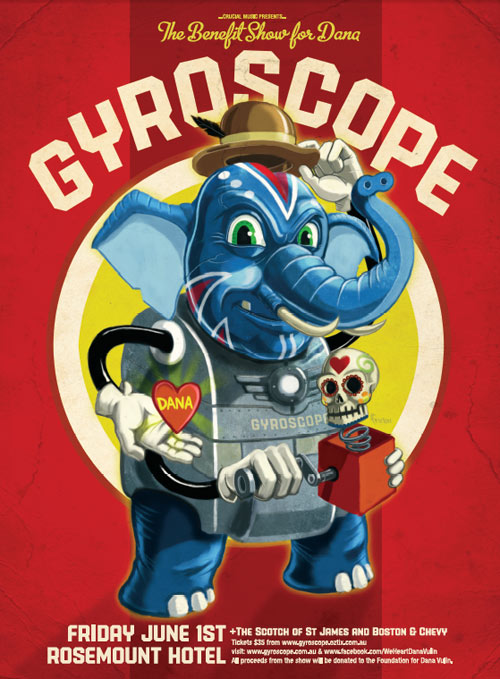 GYROSCOPE
Hometown Benefit Show for Dana Vulin
It's true; headline shows for GYROSCOPE have been few and far between in 2012 thus far. But a call to arms for an incredible cause has hit home with the band and GYROSCOPE will return from hibernation to play their FIRST HOMETOWN HEADLINE SHOW of 2012.
GYROSCOPE are very proud to announce that they will perform live at THE BENEFIT SHOW FOR DANA, which will take place at The Rosemount Hotel in Perth on Friday 1st of June. This benefit is in aid of 26 year old Dana Vulin, who two months ago fell victim to a horrendous crime in her hometown of Rivervale, Perth. An intruder broke into Dana's home confronting her and dousing her body in methylated spirits, and setting her alight. This premeditated attack has left Dana with burns to 60% of her body.
THE BENEFIT SHOW FOR DANA will raise much needed funds to aid Dana and her family with the expenses of medical treatment, legal fees and further rehabilitation costs. Tickets for the show are $35 and are on sale now. All proceeds from the show to be donated to the FOUNDATION FOR DANA VULIN.
This benefit is the brainchild of GYROSCOPE guitarist Zoran Trivic - "What has happened to my cousin Dana is beyond words, and never in our lives have we felt stronger about doing a benefit show. This will be a most special and important night, and the boys and I are really looking forward to tearing the Rosemount apart on behalf of a brave & amazing girl."
GYROSCOPE's live show has kicked into gear and is raring to go, support is coming from buddies and exciting locals The Scotch of St. James and Boston & Chevy. Join three bands to raise money for a very worthy cause. If you are unable to make the benefit show, the band are calling for donations to help Dana and her family. Donations can be made by visiting any Westpac branch with the account details, or via direct debit to:


WESTPAC BANK / BSB 036000 / Account: 939549

Account name: FOUNDATION FOR DANA VULIN
Tickets On Sale Now!
Need your live music fix?