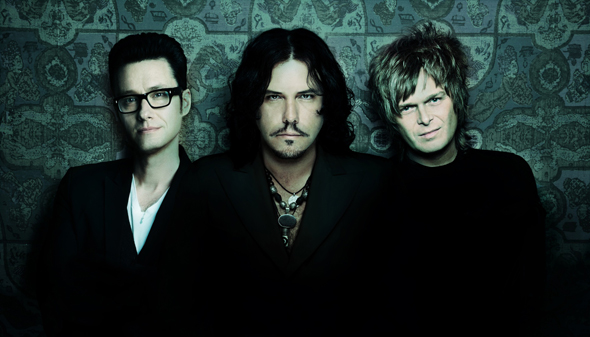 Dainty Group and FasterLouder present
THE TEA PARTY
The Reformation Tour
Australian fans of THE TEA PARTY can rejoice at the news that the iconic rock trio will hit Australia to tour Nationally in July 2012.
The Multi-Platinum selling Canadian band has had a long history and love affair with Australian audiences, which began with the band's first major label album recording - 1993's 'Splendor Solis' ('The River', 'Save Me', 'A Certain Slant of Light'). Picked up & championed by Triple J, this album achieved Gold selling status. This early success was followed by the critically acclaimed and Platinum Award selling release 'The Edges of Twilight' ('Fire in the Head', 'The Bazaar', 'Sister Awake', 'Shadows on the Mountainside'). The success of these albums cemented the band's fan base and saw The Tea Party tour Australia 12 times between 1994 and 2004.
After 15 years together, with 8 albums under their belts (1.6million + sold), and countless tours through Canada, the United States, Europe & Australia, The Tea Party went their separate ways in 2005. Creativity amongst the members continued with Jeff Martin (vox/guitar) basing himself in Australia & touring consistently in solo/band mode with The Armada & 777. Stuart Chatwood (bass/keyboards) took to composing video game soundtracks, including all 8 titles in the series of The Prince of Persia which have gone on to sell over 10 million copies, and Jeff Burrows (drums/percussion) continued to perform (with band Crash Karma) whilst maintaining a Radio career.
Reuniting for a series of Canadian shows and festivals in 2011, The Tea Party's renowned & powerful blues - rock - Indian/Middle-Eastern sound (utilising 12 string guitars and exotic instruments such as sitars, sarods, harmoniums and goblet drums etc) received an overwhelmingly positive response from fans & media alike which reignited the fire that once was;
"That they could come back after the better part of a decade apart and still sound so fresh, vibrant, powerful and relevant is a testament to the enduring power of the music, a sound that seems to exist in a separate universe than temporal or stylistic concerns. These guys just simply came back and reclaimed the majesty and grandeur of the best guitar-driven rock throughout the post-'60s era." BUFFALO NEWS (New York) – July 2011
As Jeff Martin himself states, "The seven years apart has done wonders for The Tea Party. With a renewed sense of purpose and vitality, the band is more powerful than ever with our collective eye firmly on the future."
July 2012 will see The Tea Party return to Australia for a handful of shows around the country on their 'Reformation Tour'. In what will be their first National tour in 8 years, fans can expect the fire to explode the very best of The Tea Party once again ... don't miss!
Tickets On Sale Now!
Need your live music fix?