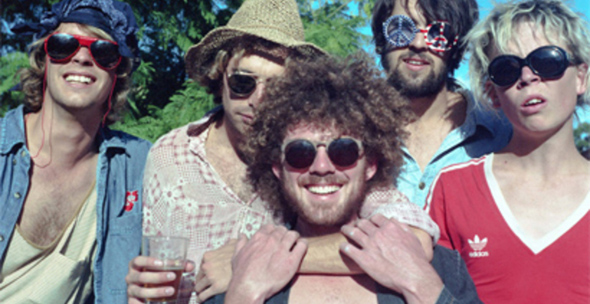 2012 WAMI AWARDS
Nominees announced!
The nominees for the 2012 edition of the WAMi Awards have been announced at the launch of the WAMi Compilation CD at the Bakery. Notable contenders include Pond, Abbe May, San Cisco and The Growl in multiple categories, and FasterLouder has been nominated for most popular music website.
In her opening address, Perth Lord Mayor Lisa Scaffidi expressed how proud she is of Perth city, giving wholehearted support to live original music and the numerous small venues opening that provide a platform for emerging bands.
Arousing a cheer from the audience, Scaffidi mentioned the issue of new inner city residents and their noise complaints by saying if you're going to live in the city, you have to embrace the lifestyle.
The WAMi Festival kicks off on 26th May with the opening party at the Bakery, and runs until 2nd June with showcase events at numerous locations throughout the city as well as the music business conference, the Kiss My Camera comp, and the short film showcase.
Congratulations to all the nominees, winners will be announced at the closing party which will feature Eskimo Joe, John Butler and Dom Mariani's latest band on the lineup.
Publically voted category nominees:
Most Popular Group
San Cisco
The Growl
Split Seconds
Pond
Most Popular Live
The Growl
Split Seconds
Pond
Abbe May
Most Popular Solo
Sam Perry
Felicity Groom
Abbe May
Rabbit Island
Most Popular Music Website
FasterLouder
Life is Noise
Themusic
Spaceship News
Breakthrough Act
San Cisco
Rainy Day Women
Sonpsilo Circus
Runner
Most Popular Music Venue
Mojo's
The Rosemount
The Bakery
The Bird
Most Popular Single
Mathas – White Sugar
Voltaire Twins – Animalia
San Cisco – Awkward
Abbe May – Design Desire
Most Popular Music Video
Tomas Ford – I Feel Dirty
Voltaire Twins – Animalia
Felicity Groom – Siren Song
San Cisco – Awkward
Most Popular Album/EP
San Cisco – Awkward
Felicity Groom – Gossamer
Abbe May – Design Desire
Usurper of Modern Medicine – Acid Chess
Most Popular Music Event
Future Music
In the Pines
St Jerome's Laneway
Southbound
You can find the rest of the 32 industry and craft voted category nominees on the WAMi Website . Public voting opens soon, stay tuned for all the news of the festival.
Need your live music fix?