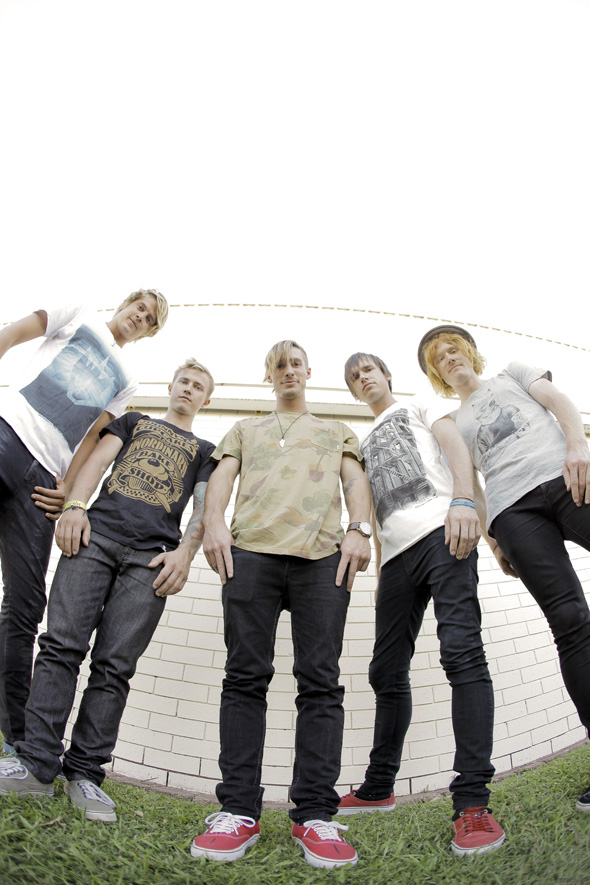 AAA Entertainment present
NINE SONS OF DAN
'The New Kids' Tour
Fun, young and full of rocking energy - Gold Coast (Australia) band Nine Sons of Dan release their highly-anticipated new single Diamond Skin to radio on Monday April 16 and digitally to iTunes on Friday April 27 – the first single to be lifted from the bands forthcoming EP titled The New Kids.
The track follows up the hit single "She's So Fine" from the debut EP Landslide after taking out the national New Artist to Radio (NA2R) award in the Rock category for 2011, earning the track a debut at number twenty-three on the national airplay charts and the number one position on the AIR Radio Charts after being the most added track to radio the week of it's release.
"We knew we had good music that was catchy and that we really enjoyed. But to get the nod from all the head people in commercial radio was a real honour for our band. People are starting to understand who we are," says vocalist and front man Jay Bainbridge from Loose Stones Studios where his band currently works on the follow up release to their successful debut.
NSOD's Landslide recently made waves in the music scene overseas. It was added to the rotation of over 140 radio stations in the USA, reaching the Top 30 Most Played charts at 12 stations.
Nine Sons of Dan's much-anticipated follow up EP titled The New Kids is due for a worldwide release in June 2012. The first single is the attitude driven rock track Diamond Skin, mixed by accredited US Producer J.R. McNeely (Anberlin/Paramore) which hits radio on Monday April 16 and available via iTunes on Friday April 27.
It's onstage where NSOD are truly at home. The young sons humbly began independently booking shows up and down the east coast, developing a strong live presence that landed them in front of crowds in excess of 20,000. Thriving on living the dream, NSOD will join the Rock the Schools tour beginning in April before hitting the road for their national headlining "The New Kids" tour in support of the newest EP that reflects where the band is today.
"When you start to get a name for yourself, people try to drag you down a lot," the singer verbalises. "A lot of the lyrics are about the struggle of trying to just do what you are passionate about. I want people to know how ridiculously exciting it is for us five guys to be touring around to play for them."
The drummer backs up his front man affirming, "We've been given the opportunity to launch ourselves and now we want to prove our worth with this EP."
In the words of Diamond Skin... try stop us and we'll grow stronger! The question is just how far can NSOD go?
Tickets On Sale Now!
Need your live music fix?