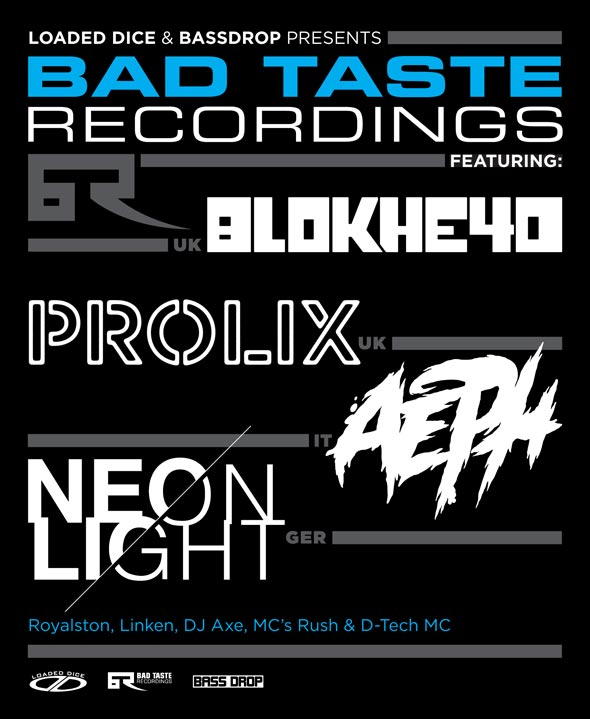 Loaded Dice and Bassdrop presents
BAD TASTE
Australian Tour
Bad Taste Recordings is now known and respected as a pioneer of the wilder energy charged side of Drum and Bass and Loaded Dice is bringing you the opportunity to experience this energy in June! The lineup boasts highly impressive artists BLOKHE4D, PROLIX as well as new talent NEONLIGHT and AEPH. The tour will hit up Perth, Sydney, Adelaide and Melbourne so wherever you are prepare yourself for the invasion of one of the hottest Drum and Bass labels on the scene.
AEPH
Inspired by different music genres, Simone "AEPH" was compelled to make his own music and has released on a number of most cutting edge record labels. The "AEPH" sound is a dark melodic mixture of classic composition and surrealistic synthesizers, a retro futuristic vision of music combined with ultra modern riffs, great versatility and a finesse that rivals his role models. "AEPH is on path for greatness! Mind blowing tunes with super tight production. Putting more BAD into Bad Taste."
BLOKHE4D
BLOKHE4D is the collaborative project between Michael "Vegas" (formerly of Bad Company UK) alongside US-born Jonas "Uman". The project merges drum and bass, dubstep and electro with their own brand of techno, disco and house in an explosive manner releasing regularly only on Bad Taste Recordings, Hospital and occasionally others No stranger to the Australian D&B scene touring down under with Andy C and Also London Elektricity and others this time cementing themselves in further as part of their own label tour.
NEONLIGHT
NEONLIGHT is the union of two different characters who grew up as childhood neighbours. During the 90's they both began listening to different things - one techno and rock, the other ranging from metal to hip hop. By copying and experimenting with their favourite styles they got their first experiences in producing music.2003 saw the teaming together of the two and the birth of NEONLIGHT before their first vinyl release in 2007 on Berlin based label "NoBreaks!" On this tour down under, Bad Taste pays tribute to their hard work.
PROLIX
With releases on leading labels such as Playaz, Metalheadz, Commercial Suicide, Ganja Tek, Project 51, Renegade Hardware, Viper, Integral, Project 51, Virus and Bad Taste, PROLIX continues to push the sonic boundaries with his unique style across the drum & bass scene. 2012 is set to see PROLIX move even further forward in the scene with more releases on Bad Taste, his very own 12 on Commercial suicide as well as a special collab with Klute, tunes on project 51 and C4C recs, and a hotly anticipated EP on Playaz.
Tickets On Sale Now!
Need your live music fix?