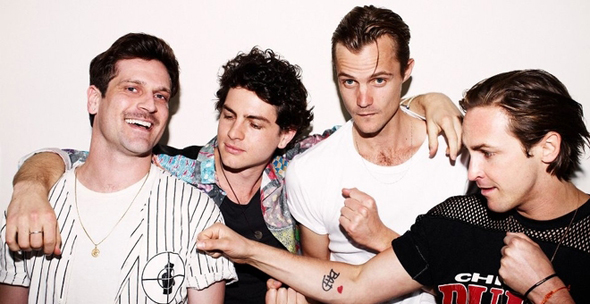 Van She
'Idea Of Happiness' Tour
Van She invite you to enjoy their 2nd record, their Idea Of Happiness. So uplifting it's practically levitational, Idea Of Happiness is Van She's most focused, joyous musical excursion to date.
An album stirred by sunbaked travels and fleeting truths, and shaken with the sands of time, Idea Of Happiness was recorded, engineered and produced by the band themselves in Kings Cross, Sydney. Their self-sufficient approach to the record allowed them the time and space to not only fine tune to the nth degree each cymbal splash and crashing wave sample, but also left them free to give ideas the time and space to hang loose. They may have walked a slow, deliberate path to realising album #2 but the result is all the better for it.
The record was mixed in Los Angeles with Tony Hoffer, the perfect man for the job with a resume that includes work with Beck, Air, Phoenix and M83.
Fluid tropical rhythms saturated in slinky synth bass and the atmosphere from mid summer night dreams. Club (Med) ready coconut funk, mojito pop, prom night slow jams. Catamaran rock, whimsical Fleetwood Mac rips, and unapologetic love songs. This is Van She's Idea Of Happiness. It's relaxed but precisely sharp, savvy but not up tight, extremely open and sincere but always on the right side of cringe-worthy. Above all Idea Of Happiness is fun and from the heart, just like it should be.
Idea Of Happiness is an ecstatic air punch of a 2nd effort and one Van She and Modular are incredibly proud to share very soon. Drop the attitude and drink it in.
Tickets On Sale Now!
| | | | |
| --- | --- | --- | --- |
| 25.Apr.12 | Beach Road Hotel, SYDNEY | NSW | FREE |
Need your live music fix?