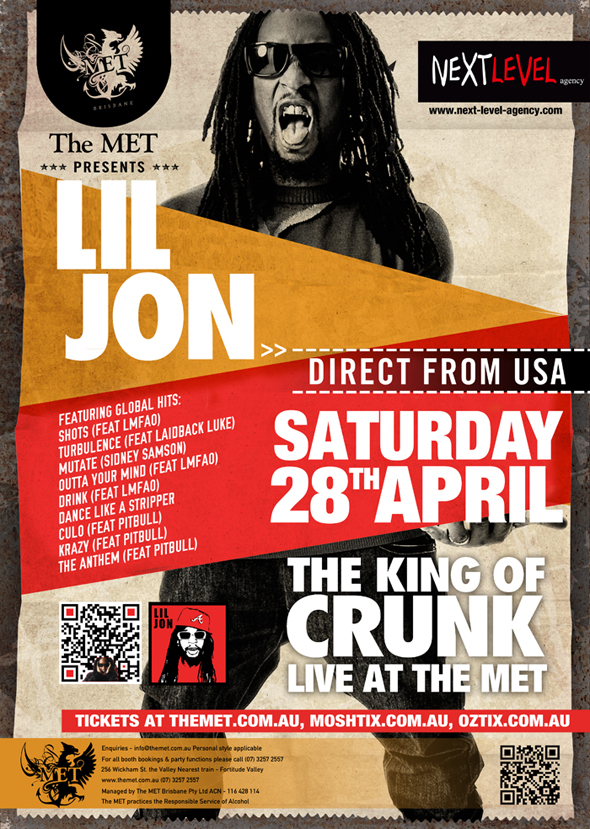 The MET presents
LIL JON
Get your Crunk on!
From Las Vegas to Bris Vegas, the dread headed, golden-grilled, 'King of Crunk', Lil Jon, is confirmed to get-low next month at Brisbane hot-spot, The MET.
Lil Jon will drop on Saturday April 28, holding down the night in an 'intimate' house, compared to the 6,200 he rocked in Las Vegas last month.
The MET's Director of Entertainment, Michael Watt, said the Crunk'N, DJ'N, Rap'N producer could have played concert venues with the kind of numbers he did in Vegas but 'keepin' it real' in a club is what fans appreciate.
"It also amps it up for our loyal Friday and Saturday-nighters," Watt said. "Earlier this month we were one of only two clubs in Australia to have Skrillex, it sold-out in days and went off."
"We reckon Lil Jon will too."
Different to the club's Skrillex strategy where they announced and went on-sale with tickets simultaneously, Lil Jon will follow a tiered roll-out for VIPs, MET members and then the general public.
An allocation of tickets priced for members will pre-sale today and $50* first-release tickets will open for sale to the general public from Friday.
Watt predicts the competitive pricing and the intimate nature of the gig will mean fast ticket sales. "To avoid disappointment, fans should pre-buy and not wait until the night."
The self-proclaimed "Ass" of everything from Funny to Crazy, Party to Wild - and anything in-between - Lil Jon's genre-bending style - from rap to hip-hop, electro to house, reggae to rock - is what you call Crunk. As much about attitude as it is about the music - Crunk is full of energy, hyped and pumped up.
Lil Jon is credited with having galvanised the term into the mainstream and has said of the lifestyle, "we live Crunk and party like rock stars."
Keeping the cred of Crunk alive, he's got 1.1 million-plus Facebook friends and half that following him on Twitter. He's generous with shout-outs and often posts in thanks and recognition of other artists.
He's a prodigious collaborator and has crafted new sounds with the likes of Pitbull, R.Kelly, the Marley brothers, Steve Aoki , Soulja Boy, Lil Wayne and IceCube.
He scored a Grammy for Yeah!, and a Billboard Top 10 for Lovers & Friends as a result of is team work with Usher and Ludacris.
His partnership with LMFAO has tallied, so far, the party-starters Outta Your Mind, Shots and Drink.
His floor-filler with the East Side Boyz, Get Low, a collab with Ying Yang Twins, still ramps for those who dance and his hook-up with Steve Aoki and Laidback Luke put the bling in last year's dance diamond Turbulence.
Life for Lil Jon is one big party, whichever way it comes. He was on last year's USA Celebrity Apprentice 4, has an endorsement deal with Oakley, his own energy drink Crunk!!!, works in movies, is married and has a 14 year old actor/model/DJ son, Nathan (known as DJ Young Slade and, when acting, Slade Smith).
This is Lil Jon's fifth visit to Oz and his third to BrisVegas. He supported 50 cent in '05 and Wu Tang Clan in Sydney and Melbourne in '09. He headlined his own club and theatre shows in '07 and last year played gigs in Hobart, Melbourne and the Gold Coast.
Lil Jon's April 28 gig at The MET is one of only four Australian shows.
Don't come unless you're ready to party!
"Yeahhhhhhh. Okkayyyyyy. Lezzz Goooo!"
Tickets On Sale Now!
Need your live music fix?