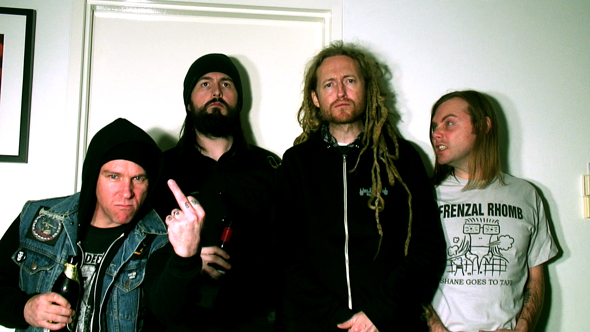 FRENZAL RHOMB
Having shelved their plan to take their next series of shows to the nation's swamps by Aquaduck, or amphibious landing craft, Frenzal Rhomb will instead perform in traditional brick and mortar structures that are capable of holding more than the Aquaduck's maximum of 30 people, or 10 people, after you subtract the band and crew, and allow space on board for a generator and a box of mosquito proof ponchos.
If this tour goes to plan Frenzal Rhomb promise to revisit not only the Aquaduck tour idea, but also the little known "All Stations To Regents Park" concept, where the band hire a Sydney train and play to the audience standing on the platform each time the doors open at a station. Fans would buy platform tickets and wait for the band to arrive at their stop before hearing one short song, or part of a long song played really fast before the doors slam shut and the band are carried to the next "show". A small surcharge to cover the band member's train tickets and other out of pocket expenses would of course be levied on all patrons.
Stay tuned for more shows in regional Australia!
And Not So Tough Now (the album that features Punch in the Face) just went GOLD, so let's party like it's 1996!
Tickets On Sale Now!
Need your live music fix?