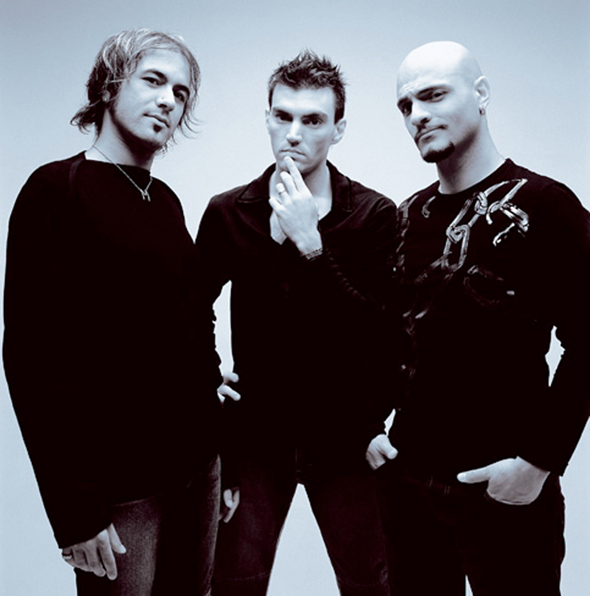 Big Apachee presents
EIFFEL 65
'Stayin' Blue' Australian Tour
The 1990's are back with a vengeance when two of the decade's biggest selling dance artists team up for a special concert series that promises to take you back in time for one awesome party!
The world was a different place in 1999. It was a world pre-GFC, where the Nokia 3210 was cutting edge technology and Y2K loomed to destroy it all. If you ignore the endless replays of Prince's 1999 the soundtrack of that year was Eiffel 65's Blue (Da Ba Dee). The song was everywhere – the catchy chorus played on radios everywhere and repeated endlessly inside the brains of millions. Such was the impact that the song went 3x Platinum in Australia, outselling Offspring's "Pretty Fly", Cher's "Believe" and Shania's "Man! I Feel Like a Woman". And it wasn't just Australia that took to the tune: Blue hit #1 the world over from France to Canada before going x5 Gold in Germany and Platinum in the UK. Blue (Da Ba Dee) turned three Italian musicians into international superstars and the follow up track Move Your Body went Platinum again. Eventually their reputation was cemented when acts like S Club 7, Nek & the Bloodhound Gang asked Eiffel 65 to remix some of their tracks.
Just as the 1990's started two friends who were studying sound engineering at Oldham College decided they could produce dance music comparable to that on the rave scene at the time. Using the equipment and the recording studio at the college they began recording demo tracks. The second garnered instant attention and a bidding war began between record labels. 380 Records came to the fore, the band signed a recording contract and N-Trance was born. Years of touring and performing in clubs cemented their live reputation and in 1995 their breakthrough track Set You Free sold 600000 units in the UK and lit up dance floors all over the world. It remains an enduring track with over 25 recorded versions of the track released by all manner of artists. In 1995 they covered the Bee Gee's disco anthem Staying Alive which reached #1 in Australia, Canada and South Africa and was the second highest selling British single in the world. Even former UK PM Tony Blair listed N-Trance's Staying Alive as one of his choices on BBC's Desert Island Discs. And for those of you thinking N-Trance lacks street-cred (the Tony Blair thing probably didn't help) they ended up touring Australia alongside Run DMC in 1998.
And this September Eiffel 65 and N-Trance unite for what will be a fantastic night of memories and music. Also joining the bill will be Mr.95 who will be playing a special set of 90's classics guaranteed to start the party.
Tickets On Sale MARCH 12!
Need your live music fix?
Search for AQUA here.
Touring March
Search for S CLUB here.
Touring May
Search for SIMPLE PLAN here.
Touring June