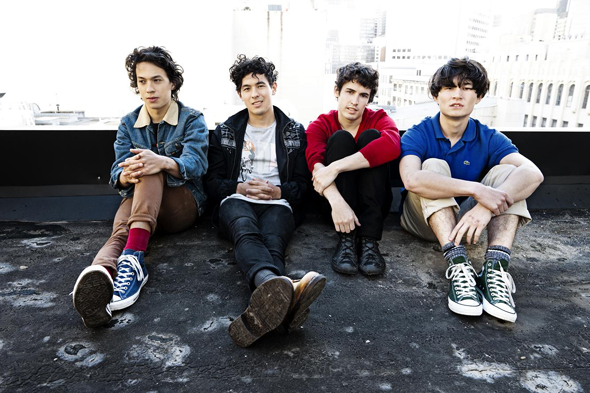 triple j, Street Press Australia, Channel [V] and FasterLouder present
LAST DINOSAURS
Million Years National Tour
With their already celebrated debut album in their back pocket and a freshly-inked international label deal in their suitcase, Last Dinosaurs are pleased to announce that they will be embarking on a national journey in April. Taking in all major capital cities and regional hot spots, Last Dinosaurs will be proving why they have had the Australian music industry gripped tightly by the ears. The UK has also stood to attention with legendary label Fiction snapping up the Brisbane band ahead of their release.
Murmurs of critical acclaim can already be heard for debut album "In a Million Years". A week before its public release, it has gained praise from radio, print and even UK indie gods Bloc Party. triple j have crowned it their Feature Album, Radar Radio have made it their Album Of The Week, and the four star reviews have began to flow freely. Bloc Party's Russell Lissack has tweeted numerous times about the Brisbane group claiming that he has not been able to stop listening to "In A Million Years", with the guitar hero admitting "it's the best guitar work I've heard in a long time."
You can stream the album for yourself via the band's facebook page and also go into the chance to win a Fender 50s stratocaster: click here to check it out!
"Incredibly slick production and the catchiest songs you'll hear this side of 2000."
The AU Review: 9.8/10 (For the full review click here.)
"Filled with irresistible danceable melodies, harmonious wails and fine riffs."
Time Off: Album of The Week (Rated 4 stars)
Earlier this week Last Dinosaurs had the pleasure of announcing that renowned label Fiction will be releasing the album in the UK. This now counts Last Dinosaurs as label mates to Crystal Castles, The Maccabees, Kaiser Chiefs and Ian Brown to name a few. More international territories seem poised to follow suit in the near future. Their live shows are being looked after by a powerhouse in her own right - Natasha Bent of The Agency Group, who also books the likes of Foster The People, Gotye, Passion Pit and Foals.
Last Dinosaurs debut album "In A Million Years" is out on March 2nd through Dew Process/UMA. With their album launch shows selling out across the East Coast fans are advised to get in quick for this national run.
Tickets On Sale Now!
Need your live music fix?