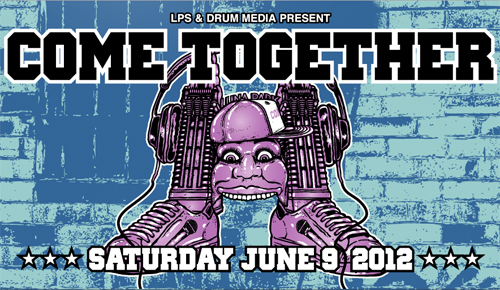 Come Together
Artist Announcement!
360
Horrorshow
Hermitude & Koolism
Now in its eighth year, Sydney's annual June long weekend party, COME TOGETHER announces its second all-Aussie hip hop line-up to take the stage in the Big Top Luna Park on Saturday June 9. Come Together has always featured the best home grown talent and has introduced and given our brand new talent the opportunity to perform on the big stage to an all ages audience. This is Aussie hip hop as it was meant to be: loud, proud, and custom made to raise the roof!
If you haven't heard the name 360, we suggest that you check your pulse. With an online army that totals over 220,000 Facebook fans and 16,000+ Twitter followers, Sixty is, quite simply, MASSIVE. Since September 2011 and the release of his sophomore album Falling & Flying, the Melbourne rapper has notched up a top five ARIA album, a #1 iTunes chart debut – which he held for 3 weeks - a Most Hunted Award at the Jagermeister Independent Music Awards, three entries in 2012 triple j Hottest 100 ('Boys Like You' #8, 'Killer' #37, 'Throw It Away' #84), Gold sales for Falling & Flying and Double Platinum sales for the hit single, 'Boys Like You' featuring indie darling Gossling and he also won the 2011 Channel [V] Oz artist of the year award.
Despite the unstoppable hype, it's 360's music that speaks the loudest. His no-holds-barred cross-genre assault that takes cues from not only hip hop but also pop, dance and dubstep has taken Sixty to the top of the charts, and to the top of the bill at Come Together for what will be the only Sydney show on his upcoming national show run, The Flying Tour.
Joining 360 is MC Solo and Adit – AKA Horrorshow - one of the most exciting young hip hop acts in the country, in another exclusive Sydney performance for Come Together. The duo boast an ARIA nomination for their 2008 debut album, The Grey Space, triple j and FBi Album Of The Week honours for their sophomore album Inside Story; have an impressive and enviable amount of sold out shows under their belt, and have appeared at some of the country's biggest music festivals including Big Day Out, Splendour in the Grass and Groovin' the Moo. The release of their new single 'Did You Hear' marks the beginning of an awesome year for Horrorshow, as they bring it to the Come Together stage.
With a reputation for incredible live shows, the Blue Mountains duo Hermitude started 2012 with a bang when their new album HyperParadise charted in the Top 40. In September 2011 they released the Summertime monster 'Speak of the Devil'— a dance floor gem thrashed by Australian radio, with an infectious video clip that won the 2011 triple j Award for Australian Music Video of the Year. They've toured Europe, Asia and USA and their performance at this year's Come Together Festival will be their last Sydney show before they once again head overseas - it's one not to be missed!
Cream of the rising hip hop crop, Seth Sentry, first gained prominence when triple j unearthed his debut track 'The Waitress Song', which eventually placed at #31 on that year's coveted Hottest 100. With the new single 'My Scene' out now, and his debut album on the way, Seth is quickly forging a reputation 'one to watch'. Don't miss his first Sydney performance in almost two years at Come Together.
ARIA Award winners and legends of the Aussie hip hop scene, Koolism, also join the Come Together line up for an exclusive Sydney performance. MC Hau (host of triple J's hip hop show) and DJ Danielsan have a proven track record for leaving stages absolutely smoking at major events including the Big Day Out, Homebake, Good Vibrations and Field Day. The group has played an integral part in the evolution of the new independent music within Australia and their 1998 release 'Lift Ya Game' is tagged as one of the classics of Australian Hip Hop. They hit the Come Together stage with massive amounts of style and even more cred, and are a must see for all true fans of hip hop.
Newtown three piece, Thundamentals, burst on to the scene in 2009. They have graced stages at major festivals including Falls Festival, Subsonic & Pyramid Rock and over the past eighteen months have supported some of hip hop's biggest artists winning fans wherever they play. Having recently released their incredible sophomore album Forevevolution which includes the singles 'Paint The Town Red', and 'How You Been ' the boys look set to do exactly that when they hit the stage at Come Together.
Whether on record or onstage Skryptcha is both charismatic and energetic, and bears all the hallmarks of a hip hop hero in the making. Scyptcha steps-up at Come Together to showcase tracks from his first album 'The Numbers' plus tracks from his forthcoming album 'Mindful' which features contributions from his Obese label mates Illy and Spit Syndicate. Emcee / Producer Purpose brings his well honed freestyling skills to the Come Together arena. The former winner of the Australian Scribble Jam MC Battle & Revolver MC released his seventh project, If the City Had A Voice pt. 3, in November last year, and hype is building high behind this Adelaide local in anticipation of his debut album release this year. Melbourne emcee Bam Bam makes his own explosive blend of dub step and electronic sounding beats, and has also featured on 360′s mixtape 'Stand The Fuck Up'. A break-dancer and a lyricist, Bam Bam's all-round hip hop skills are sure to get the Come Together crowd pumping.
It's time for Aussie hip hop fans to Come Together for what will certainly be one of the best hip hop events this country has ever seen!
360
HORRORSHOW
HERMITUDE
SETH SENTRY
KOOLISM
THUNDAMENTALS
SKRYPTCHA
PURPOSE
BAM BAM
Need your live music fix?