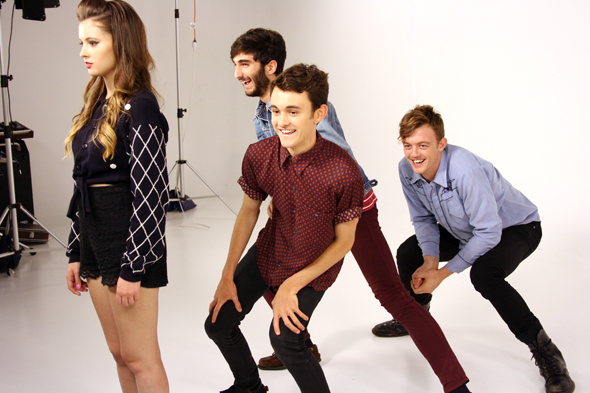 Yen Magazine, Pedestrian, Beat, Brag, Rave and Db Magazine present
SAN CISCO
The Rocket Ship Tour
Fremantle's indie-popsters San Cisco are jumping aboard their rocket ship this April and May for a string of side shows to coincide with their Groovin' The Moo performances. The San Cisco Rocket Ship will be landing in Adelaide, Brisbane, Gold Coast, Melbourne, Sydney and Perth delighting fans with their lively jangly pop tunes.
After whetting the appetite of Australians on their SOLD OUT national tour with The Jungle Giants, San Cisco will be taking to the road again. This time revealing a few new tunes as well as 'Awkward' the song that landed them at #7 in triple j's Hottest 100 countdown. The band haven't stopped since releasing their sophomore EP, Awkward, which rocketed to GOLD status.
The young guns have been considerate enough to open the doors to anyone who is 8 to 88 in Adelaide for a special ALL AGES show at Fowlers Live on Thursday, May 3.
The band's hometown were lucky enough to get a taste of what to expect on the 'Rocket Ship' tour when San Cisco made a special in-store appearance at Fat Shan Records in celebration of release of their EP. The record store was packed to the rafters spilling out onto the streets with fans waiting to see the band perform. But it isn't just fans that have been swooning, reviews for the sophomore EP and shows have illustrated that they are the band to watch.
"Davieson is a particularly good vocalist his youthful voice carrying just enough swagger to be highly convincing." - Single of the Week, Drum Media, 2 February 2012
"It brims with more sweetness and energy than a cold glass of Milo." - Brag, 30 January 2012
"All five tracks... prove that the talented local outfit have strong enough songwriting skills to be heard above the hype." - Xpress, 18 January 2012
Jumping on the rocket ship around the nation will be Perth band, Voltaire Twins. The brother-sister combination of Jaymes and Tegan are well known for their edgy, fresh take on dance-pop touring Australia numerous times as well as playing CMJ in New York. Voltaire Twins' on-stage presence and energy is frenetic, making for a fun-filled set of synth laden dance tunes.
If you want to be one of the lucky few onboard San Cisco's Rocket Ship, you'd best jump to it. Tickets are on sale NOW. San Cisco's new EP Awkward is available now from iTunes and all good indie retailers.
Tickets On Sale Now!
Need your live music fix?