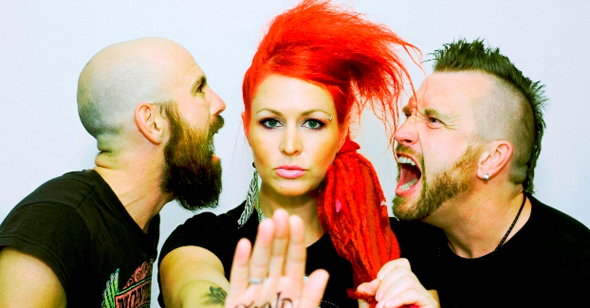 Laing Entertainment presents
DALLAS FRASCA
'All My Love' Tour
All My Love is the first track to be lifted from Dallas Frasca's forthcoming 2nd album "Sound Painter". Recorded in New York with Australian producer Andy Baldwin (Bjork, Chrissie Amphlett, Living End, Kram, Cat Empire) at Rola Pola Studio's in Brooklyn - check out their first album diary video at the bottom of the article!
Recording next to the Willliamsburg Bridge in Brooklyn in a warehouse shared by the Jewish community, the band did the entire album with no click tracks for that true honest rock sound and the intent of being able to show they can perform it live. After 4 months of writing and rehearsals in Melbourne, Dallas, Jeff Curran (guitar) and Pete McDonald (drums) hit The Big Apple and tracking wise, smashed down eleven songs in 7 days. All guitars and drums and most vocals on the album were live takes with next to no over dubs and most songs were captured in their first or second takes. The entire record features no bass; just Dallas and Jeff dueling gargantuan slabs of riffs on 2 Les Paul's through 1960's Fender and Silvertone amps. The sixties permeates throughout in fact, all drums were 1960's Slingerland and Ludwigs and the vocals were also all done though 1960's mics. In Frasca's own words: "Recording in New York, we had to ride our pushies 7 km's through Manhattan and across the WIllamsburg Bridge every day, from our accom to the studio, and then back again at night. New York was spread out in front of us. That change of scene, from writing in Footscray, Melbourne in the middle of winter to then living in Soho, Manhattan in summer - was inspiring. It gave me, Jeff and Pete a chance to be anything we wanted to. You can hear the confidence on the record. All My Love was the first song that we wrote together, when it happened it was like a lightning bolt that inspired us and gave us the strength to push through as we wrote the rest of the album. Every song on the album has its own individual personality and sound and hence "Sound Painter" as a whole is like a giant painting with all colours of the rainbow being used. It tells so many stories and yet it is obvious that the strokes across each one were from the same brush..."
When it came to selecting the first single to be released from the album, the band threw it too public opinion, literally. Frasca explains:
"We held a listening party in Melbourne and played the entire album to 'fans and industry only' (around 250 people) which was received by roaring cheers and clapping after every song and a standing ovation at the end of the evening. Our producer even surprised us and flew out from NYC for the event! Afterwards we asked our captive audience to pick out the first single."
"Currently one of the most successful independent musicians in Australia." - Time Off
"If you like your rock molten, monolithic and propelled by passion and authenticity, it's time to tune into Dallas Frasca." - Beat Magazine
"Frasca is truly one of Australia's most inspiring and strong willed female Artists" - Reverb Mag
"Frasca's voice seems to be getting more versatile and refined - she has the makings of a superstar." - Inpress Magazine
"Sound Painter" is out April 1st, 2012 through MGM. But if you want to get your hands on the latest single for FREE, go to www.dallasfrasca.com!
Tickets On Sale Now!
Need your live music fix?