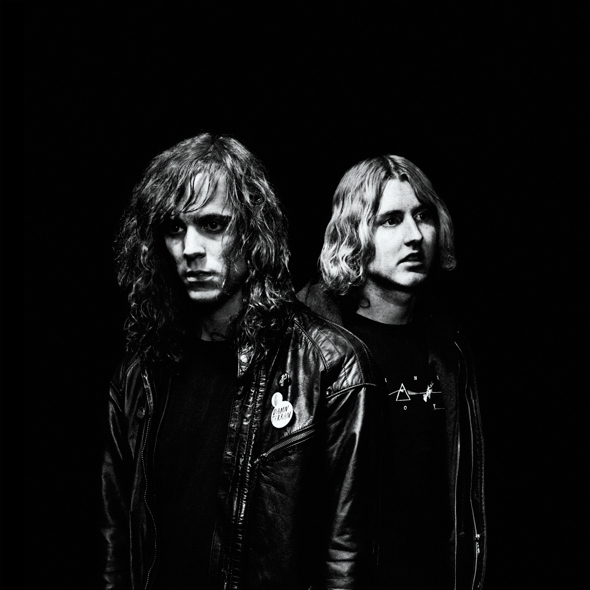 Channel [V], Beat Magazine, Brag, Time Off, Pedestrian,
I OH YOU & Select Music present
DZ DEATHRAYS
The Bloodstreams Tour
DZ Deathrays are made up of two main components. They were designed to play at house parties in the shady parts of Australia but of more recent times expanded their horizons (and perhaps said "shady parts") to stretch across the globe. Now they're ready to present the world with their debut LP, a 14 track-assault titled 'Bloodstreams' that represents the duo's last four years of hard work and will be released in Australia on the 6th of April (Good Friday).
Since the first house party they ever played, the duo have been noted as a relentless live act, 2011 proved to be no different with the two friends hitting the highways of Australia with many acts including Foo Fighters, Unknown Mortal Orchestra, F*cked Up and Dananananaykroyd. They also made several trips overseas including performances at SXSW and The Great Escape, shows with Band of Skulls, Male Bonding, Unknown Mortal Orchestra and finally full tours of the UK with NYC punk band Cerebral Ballzy and the NME Radar tour.
DZ Deathrays quickly fell into the good graces of highly respected publications NME Magazine and Q Magazine who both placed DZ Deathrays in their "top 10 bands of The Great Escape", while NME took their praise even further and placed them as the 4th most exciting new act of 2012 including a double page spread on the band featuring quotes from Mark Ronson, Unknown Mortal Orchestra and Huw Stephens of the BBC1!
Upon returning to Australia in early November 2011, Shane and Simon finally ventured into the studio to record their highly anticipated debut LP with Richard Pike (of PVT) and Neil Coombe at the White Room Studios in Mt Nebo. The duo spent the best part of two weeks tracking and mixing developing 'Bloodstreams' into the 14 tracks that now show a great development in maturity from the previous release EP's.
Not wanting to take a rest from touring DZ Deathrays then quickly jumped back in the van and completed Australian tours with Crystal Castles, Unknown Mortal Orchestra, Foo Fighters and Laneway Festival over the 2011/2012 summer, picking up positive reviews wherever they played/parties. Quite a year!
Off the back of this exciting news we're thrilled to announce DZ Deathrays' first national headline tour since April 2011, a run of dates around the nation simply and somewhat obviously titled 'The Bloodstreams Tour'.
Hitting the road with DZ Deathrays as main support will be Brisbane based garage party band Velociraptor (who Simon and Shane also play in!). No strangers to the highways of Australia either, the 12-piece (not an error) collective have been winning fans as their catchy singles grace the radio-waves of Triple J and alike. Be sure to get down early!
Tickets On Sale AT 9AM LOCAL TIME!
** VELOCIRAPTOR NOT APPEARING
| | | | |
| --- | --- | --- | --- |
| 18.Apr.12 | Beach Road Hotel, BONDI | NSW | FREE |
Need your live music fix?