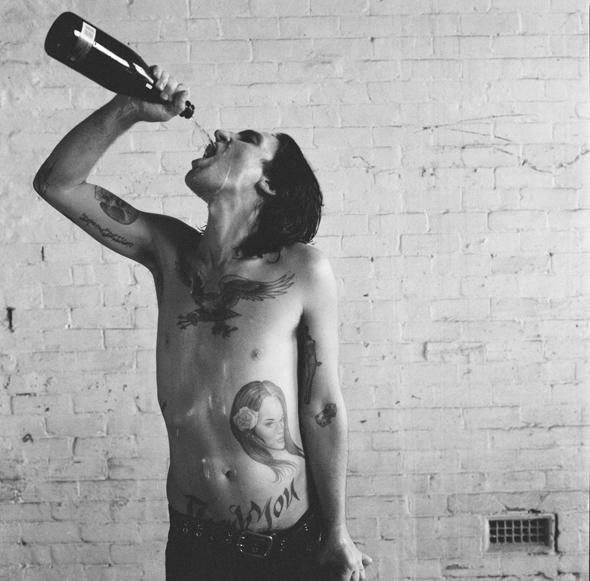 KillRockStar Big Dog Entertainment, Treats Collective, SRH Australia
and Suburban Noize Records present
MICKEY AVALON
Reschedules Australian Tour for May 2012
Due to studio commitments and the US launch of his new album Loaded Mickey Avalon has been forced to postpone his previously announced Hi-5 March Australian Tour until May, 2012. Fans who have already purchased tickets for the now postponed tour can rest assured that all previous tickets will be honored for these newly announced dates.
If you look up the expression 'Live fast, die young and leave a good looking corpse' there is surely to be a picture of Hollywood based rapper Mickey Avalon right next to it. Avalon's life story plays out like an episode of VH1's 'Behind The Music' marred by personal tragedy, triumphs and intense pain. Using his life experiences as fuel for his intense rhymes, Mickey Avalon is now inviting listeners to step into his world with the release of his new studio album Loaded. The Loaded tour marks the fifth year in a row that Avalon has returned to Australian to perform his majestic live show. Loaded is Mickey Avalon's first album free from his major label deal and will be released in Australia through Suburban Noize Records. Avalon recently debuted his new video for the track I'm Hot online here.
The Loaded tour will also feature Australian Kid Mac as special guest at all shows. Kid Mac has carved a name for himself in the Australian music scene with a sound that sets him apart from other artists that is gaining him recognition and accolades both in Australia and internationally. Now ready to drop his debut album No Man's Land in April, which includes the brand new single She Goes Off featuring non other than Mickey Avalon!
Tickets On Sale Now!
Need your live music fix?