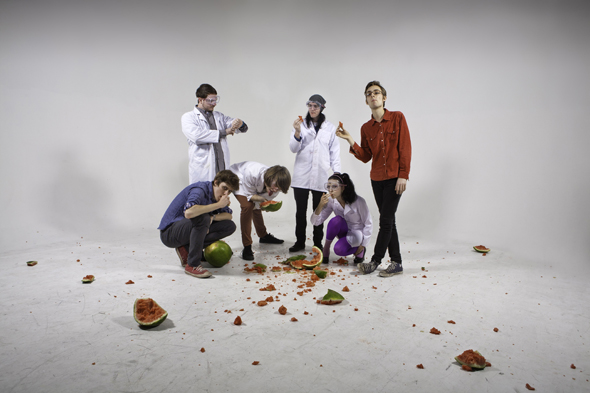 Mucho-Bravado, Select Music and Pedestrian presents
BALL PARK MUSIC
THE 180° TOUR
Off the back of not one, but two entries into triple j's Hottest 100, Ball Park Music announce their most ambitious national tour yet - The 180° Degree Tour.
After being officially Unearthed by triple j just over a year ago, Ball Park Music have become one of Australia's must see musical outfits. With wide spread airplay the catalyst for a touring regime that doesn't seem to let up, Ball Park Music are the band that the masses are talking about.
"Ball Park Music took the stage and smacked everyone off their cross legged thrones and into the mayhem that seems to be a side-effect of this six piece." - Pages Digital
Touring the country aside, BPM's achievements in 2011 are nothing less than extraordinary. The Brisbane sextet unleashed their debut LP Happiness and Surrounding Suburbs in September entering the ARIA chart at #36. This record plays home to six high rotating radio singles - 'iFly', 'Sad Rude Future Dude', 'Rich People Are Stupid', 'It's Nice To Be Alive', 'All I Want is You' and 'Literally Baby'.
The video for 'It's Nice to Be Alive' was voted Channel [V]'s Ripe Clip of the Week, beating Kanye West and Jay Z as well as The Kooks and also took out the #3 spot in Rage's Top 50 of 2011. 'Rich People Are Stupid' also appeared at #13 in the Rage countdown.
As of last week, Ball Park Music can add another accolade to the ever-growing list, with two entries in Australia's most widely renowned musical democracy - triple j's Hottest 100. 'It's Nice to Be Alive' and 'All I Want is You' appeared at #31 and #38 respectively.
Their record Happiness... received nominations for Album of the Year in both triple j's J Awards and the Rolling Stone Awards. It was also voted the 10th Best Album of 2011 in triple j's listener poll.
And as a band, Ball Park Music were nominated for Artist to Watch in the Rolling Stone Awards and took out the J Award for Unearthed Artist of the Year.
Ball Park Music have become one of the most cohesive creative units in the country. Now, the bar is set as they embark of their biggest national outing yet.
Tickets On Sale Now!
Need your live music fix?