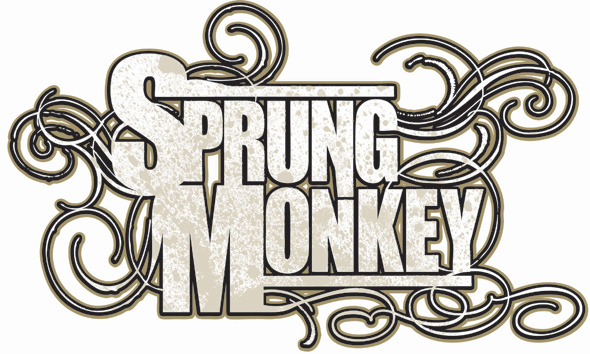 Big Apachee, Fiik Skateboards and Mojo Surf present
SPRUNG MONKEY
TOUR TO CELEBRATE 20 YEAR ANNIVERSARY
OF CLASSIC SURF FILM 'MOMENTUM'
In any given field you'll find ground breakers, innovators at the forefront of a new movement, who forge a path out of the wilderness that others inevitably follow. It is no exaggeration to say, in the cross-over world of extreme sport films and music, Taylor Steele & San Diego's Sprung Monkey are pioneers.
20 years have passed since Taylor Steele's ground breaking surf film Momentum first starting making waves amongst the surfing fraternity, offering precious glimpses of big waves and far flung places. An entire generation of grommets may have grown up since the film's release yet Momentum remains a classic in the surf community. Momentum kick-started a series of films that are known as the most innovative and progressive surf films of their time, introducing the surfers that were to become icons in the surfing world including Kelly Slater & Rob Machado - back dropped seamlessly & appropriately by Sprung Monkey's radical blend of punk and alternative heavy rock. And now, twenty years after its release, Sprung Monkey & Taylor Steele are coming together to celebrate Momentum's platinum jubilee.
The two week, nine date safari takes in East Coast cities and towns meaning The Momentum 20th Anniversary Tour is never far away from a good break. A special edition of Momentum will be screened each night topped off with a live Sprung Monkey performance.
Taylor: "I can't believe it's been 20 years from the Momentum release. I remember doing a premiere with Sprung Monkey for the movie way back then. So it makes perfect sense to show the original version with Sprung now. Watching the movie again with a live audience will be exciting for me. It's been a long time since I've seen it. More importantly I can't wait to watch Sprung play!"
A lot has happened in the 20 years since Momentum. Taylor has gone on to win awards at ESPN Action Sports Awards (for Hallowed Ground), the Surfer Poll (for The Show), X-Dance (for Shelter and Sipping Jetstreams) and recognition from Billboard for his work on music videos. And Sprung Monkey have gone from earning a place in the 90's zeitgeist, performing on the season premiere of cult classic Buffy The Vampire Slayer, through to carving up the stages on the Warped Tour and garnering mainstream success with their third album Mr Funnyface, charting top ten in the Billboard charts. A short hiatus ended in 2005 from whence they emerged as relevant and ruthless as they had ever been - reaffirming to old fans and new that the old Sprung Monkey had never really gone away, and that their live performances were just as thrilling and fresh as they had always been.
Joining the bill will be special guests The Grains, whose psychedelic surf rock epitomises the laid back cool of their hometown Byron Bay. Having completed a national tour with Ash Grunwald & currently in the midst of the finishing a new EP there is an aura around the band that marks them down for big things.
Also along on the travelling roadshow will be a special exhibition of Ocean Art from photographer Sean Scott. Having galleries located in iconic surf locations, Burleigh Heads and Coolangatta, Sean's work is becoming increasingly sought after, garnering international attention, and is a perfect edition to the Momentum 20th Anniversary tour.
For any local budding surf photographer/film maker there is an opportunity to have your work on show as well. Visit the Sprung Monkey Australian Tour Facebook page and you might get the opportunity for your work to exhibit alongside Taylor & Sean's.
Tickets On Sale Now!
Need your live music fix?