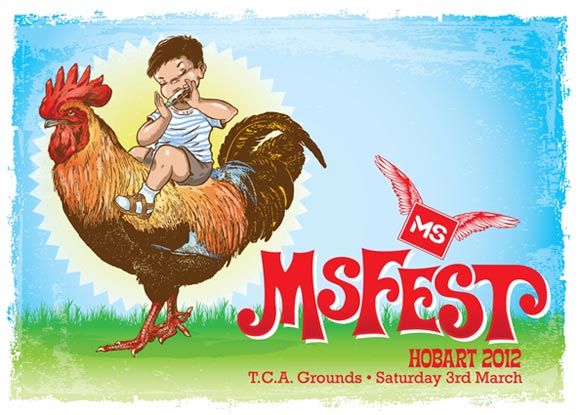 MSFEST 2012
The MSFest cooks have been slaving in the kitchen. The fat has been flying. The menu has been rearranged many times, but now for you hungry punters the MS Fest chicken is well and truly cooked and the 2012 line-up is ready.
MSFest 2012 will be a festival for the music lover. We listened to you and we are delivering an exciting array of international and national acts, featuring international acts The Naked and Famous, Roots Manuva, Fat Freddy's Drop, Salmonella Dub Sound System, Bomb the Bass, Unkle Sounds and Australian festival favourites, Sparkadia, Amy Meredith, Little Red, Tijuana Cartel, Sampology, Bluejuice, Muscles, Nina Las Vegas, plus an extensive menu of Tasmanian artists.
MSFest 2012 makes an exciting fresh start at the TCA ground on the Queens Domain. "The TCA is a bona fide festival venue, it has great ambiance and atmosphere. And everyone remembers rocking out to the AC/DC concert with 18,000 people" said Charles Touber, Event Manager.
"Over the past six months we have listened to and respected the views of our supporters. Uppermost in the feedback was the feeling that MSFest was becoming repetitive in regurgitating the same Australian acts year in year out. In 2012 we are up for the challenge and are bringing a core of international acts which are festival favourites all around the world" said Charles.
In 2012 we have upped the ante of activities on offer; In addition to the Main Stage and the Dance Stage, we will feature a Silent Disco, which have been a huge hit at many British festivals. And on the fourth performance area, The Republic stage, we will showcase the depth of local Tasmanian talent. The all ages event will be fully catered in a village atmosphere with food, general interest stalls and carnival rides for the adrenalin junkies. There will be an extensive fully licensed area which is elevated with full main stage view. The popular VIP area will also return with its own private grand stand and creature comforts.
The MS Society of Tasmania have worked to ensure MSFest 2012 will be a high quality, value for money festival that remembers why it is there: Funds raised from MSFest 2012 go to support MS Tasmania and the great work it does in our community to help people with Multiple Sclerosis and those close to them. Tasmania has the highest incidence of multiple sclerosis in Australia.The average age of diagnosis is 29 years old. Three out of four people diagnosed with MS are women.
"We all grew up supporting the MS Readathon in our early years. The MSFest is the grown up party where we can all continue our support of this great Tasmanian charity." Dale Eastley, CEO. The MS Society of Tasmania
Main Stage
The Naked & Famous (NZ) * Roots Manuva (UK) * Fat Freddy's Drop (NZ)
Unkle Sounds (UK) * Bluejuice * Sparkadia * Grafton Primary
Evil Eddie * Little Red * Amy Meredith
Dance Stage
Salmonella Dub Sound System (NZ) * Bomb the Bass (UK)
Muscles * Sampology * Tijuana Cartel * Ajax
Kuya * Nina Las Vegas * Acumen
Tickets On Sale Now!
Need your live music fix?
Search for BREATH OF LIFE here.
10th - 11th March
Featuring Icehouse, Hilltop Hoods, Rockwiz Live, Eskimo Joe and more!
Search for BLUEJUICE here.
Touring January
Search for SAN CISCO here.
Touring January - February