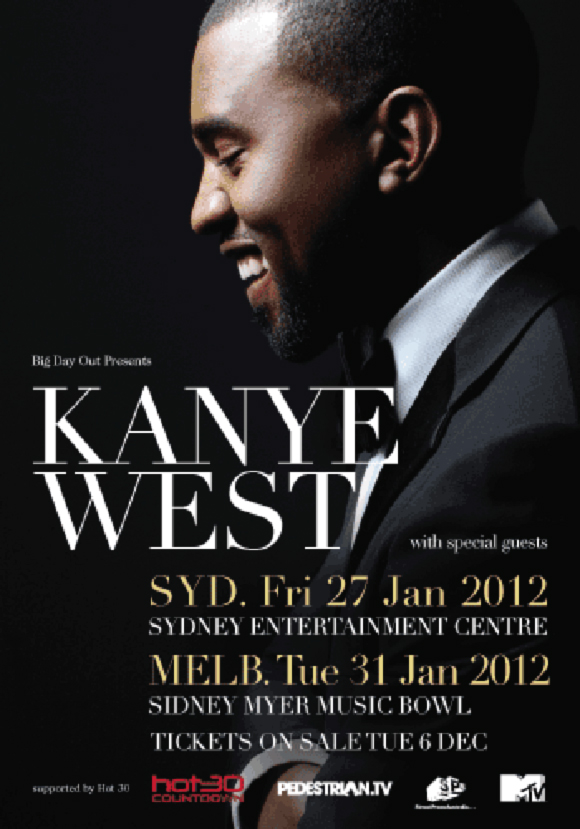 Big Day Out proudly presents
KANYE WEST
MELBOURNE SIDE SHOW SOLD OUT & SYDNEY SELLING FAST!
"As entertainment, West's set was captivating, a festival performance unlike any other"
(Los Angeles Times, April 2011)
Big Day Out 2012 headliner KANYE WEST, a 14-time Grammy winner leads the way in the 2012 Grammy Awards with a staggering seven nominations. He's even nominated against himself, with Watch the Throne and his own My Beautiful Dark Twisted Fantasy nabbing Rap Album of the Year nods.
What the critics are saying about My Beautiful Dark Twisted Fantasy:
"At a time when we all get hectored about lowering our expectations, surrendering our attention spans, settling for less, West wants us to demand more."
(*****, Rolling Stone)
"A perfect 10... with his music and persona both marked by a flawed honesty, Kanye's man-myth dichotomy is at once modern and truly classic."
(Pitchfork)
Melbourne has spoken loudly and clearly, snapping up every available ticket to the official Big Day Out KANYE WEST Melbourne side show and the show is now officially SOLD OUT.
The only chance Melbourne fans have to see KANYE WEST is headlining the BIG DAY OUT at Flemington Racecourse on Sunday, 29 January.
Sydneysiders take note, there are just a few tickets remaining for the Sydney Entertainment Centre show, and we recommend you get in quick to avoid disappointment!
Kanye's headlining performance at the 2011 Coachella Music Festival in California had critics and fans alike on the same page:
"In what is sure to go down as one of the most memorable performances in Coachella history, Kanye West only disappointed anyone who was expecting the controversial MC to phone in his festival-ending set Sunday night"
(MTV)
"The show of a lifetime"
(Examiner)
"This is less of a show, more of a religious experience"
(NME)
Don't miss your chance to see KANYE WEST live!
Tickets On Sale Now!
Need your live music fix?
Search for SOUNDGARDEN here.
Touring January - February
Search for OFWGKTA here.
Touring January - February
Search for DAS RACIST here.
Touring January - February